It's a tale as old as time, a song as old as, well, Spain. Consider this a culinary love story. Fated lovers brought together by destiny hunger, forced apart by tragedy industrialization, and reunited by their unwavering dedication to one another a bonafide food revival. This is the story of tinned seafood and its one true love, fortified wine.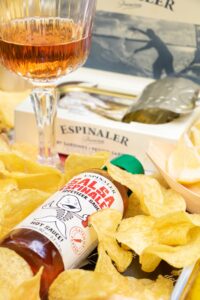 Tinned seafood culture was born on the Iberian peninsula, and while it's never really died out, it's experiencing something of a renaissance worldwide. What was once a local tradition is taking the culinary world by storm. You may have noticed it at your local watering hole or your favorite little neighborhood restaurant. Believe me when I say tinned seafood is here to stay. But if you don't believe, take a chance on re-creating a recent Caputo party spread of tinned seafood and tapas style accouterments and pair with a variety of fortified wines. It's a unique, luxurious, and delicious spread of food with a multitude of textures, flavors, and culinary variety. This is the stuff of my culinary dreams.
The first step to creating your spread is shopping for your treasures. Select a variety of fish, bivalves, and cephalopods and be mindful of the oils and sauces they've been preserved in. You'll want a variety of oil, sauce, brine, and spice. You'll also want a variety of brands. Seafood is being fished from the best sources and we're lucky enough to have a handful of brands with their finger on the pulse of the ocean. Personally, I think every table needs a tin of these Jose Gourmet spiced calamari in ragout sauce and at least one really love tin of sardines to help fight the misconception that all sardines are sad sardines (my pick here). Lastly, pick something you would have never dreamed of 1)finding in the US 2) ever eating. Enter baby eels in olive oil and . Finally, finish this step with our preferred starchy vehicle, Spanish potato chips, and acidic preserved vegetables like basque piparras and caperberries along with lemon wedges and some vinegar based sauces the only sauce that matters, Espinaler.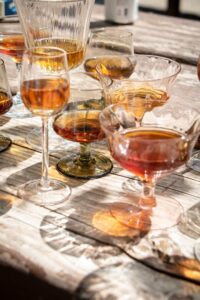 Step two is where this starts to really get fun; it's time to shop for booze. Vermouth and other aperitifs date as far back as tapas culture. The two have gone hand in hand since humans began fortifying their wines with additional spirits, roots, herbs, and sweeteners. Fortified wines offer a more aromatic and flavor packed juxtaposition to tinned seafood than wine alone can. Yes, of course you'll love these tins with a glass of white wine; however, a vermouth (either sweet or savory) will create more depth, nuance, and complexity for you to enjoy long after you've swallowed. You nerds out there know this as retronasal olfaction, and you nerds know exactly what to expect from pairings of this caliber. Start with a sweet vermouth as this is the original mate for tinned seafood, but spread your wings and grab a dry vermouth and any other aromatized wine or aperitif that strikes your fancy. If it's herbaceous, sweet, or both, you'll likely enjoy it.
Yelena Caputo (friend/boss/soul sister) once likened our national affinity for the classic Coca Cola, salty fries, and hamburger combo to the much more romantic Spanish version – sweet vermouth, patatas fritas, and tinned goods. Sweet marries easily with savory and salty flavors in any fashion, this is no different. Enjoy the balance they offer each other and the layers of flavor you can create with each new tin and bottle.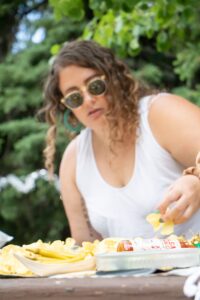 When you're ready to put your spread together, don't be afraid of going big. We did our crawfish boil style with newspaper spread over the table, heaped with potato chips and seafood, veg, and glasses nestled into each little nook and cranny. It certainly makes a statement, but you can re-create the same idea on a wooden cutting board, coffee table, or large plate. The idea is to enjoy nibbles and sips of different combinations throughout your evening. Everyone will find something they like and you'll be shocked at how satisfied you'll feel from these delicate proteins, salty starches, and sweet libations.
Indulge, enjoy your company, savor your sips and bites. It's just like a trip to Spain, without the fearmongering border agents fear of customs seizing all your tasty treasures.