Just like the title reads, I've learned my lesson. No more last minute gifting for me! If I have to spend one more holiday eve crammed in line with all the other procrastinators, I'll surely perish.
I get to ease back into gifting this year with what I believe is the easiest holiday for gifts, Valentine's Day. It sneaks up quickly and silently, like I used to sneak home after curfew. If you're not prepared or haven't chosen your 2015 Valentine, you'll be in those lines with sorry cardboard boxes of awful to mediocre chocolates that often aren't even eaten.
Don't be a sad cardboard box chocolate gifter. Be the ultimate Valentine with the ultimate chocolates. The most decadent, unique, and crave-able chocolates are here at Caputo's. Whether you've been here once or one hundred times, you know what I'm going to say — dearest friends, Caputo's Chocolates by Chris Blue.
If you somehow haven't heard of these — or heaven forbid, haven't tasted them — let me tell you: this is the chocolate box to end all chocolate boxes. Each filled chocolate is made with the utmost precision and care by Chris Blue, former pastry chef at Michelin-starred Charlie Trotter's in Chicago.
Salt Lake City's very own Solstice Chocolate is the chocolate of choice for Chocolatier Blue's paper-thin chocolate shells and the base for its chocolate ganache. The ingredients vary from the country's most expensive cream to the very best handpicked fruits, nuts, and liqueurs. Each chocolate is a masterpiece. They're beautiful, decadent, creamy, and begin with the most delicate snap from their ultra-thin shells.
Pick from a variety of box sizes ranging from six pieces to 30. The six-piece boxes are perfect for friends and family, or for that date you cancelled on last week. The 30-piece is basically a declaration of your undying love and dedication. Who needs diamonds when there are chocolates?
We just heard about the newest flavors that will be released in time for V-day. And I can't wait. Here's the list of flavors Chocolatier Blue has lined up for Valentine's 2015: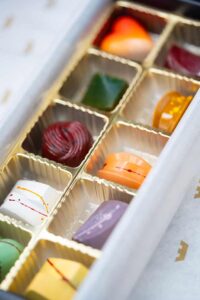 Pineapple basil
Pistachio cherry
Coconut almond
Grapefruit Champagne
Pomegranate tarragon
Mango lime
Lemon poppy seed
Key lime graham cracker
Macadamia
Lavender honey
Maple pecan
banana rum
Blueberry yogurt
Ginger tea
Drooling? Yeah, me too. Stay tuned for the announcement of the arrival of these exciting new flavors. We promise to tell everyone when they're here, well, right after we stuff our faces with a few. Don't forget, you can get these at our Downtown, 15th, and Holladay stores. Oh, and also, don't forget to give them to your loves before eating them yourself.