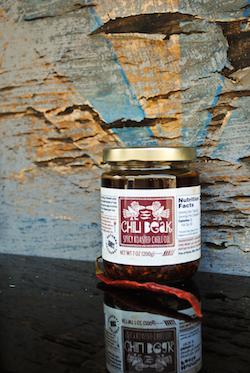 I was born in New Mexico. There, I've said it. No, I don't know any real people like from Breaking Bad. Yes, I love the balloon fiesta. Yes, Hatch green chile is unlike any other chile. I like spicy, New Mexican food, but I also have a deep love for Mexican. I've been numerous times and love the culture, food, people, and the excessive amount of tequila I'm able to consume.
My grandparents make a New Mexican version of tinga, which is a shredded chicken recipe from Puebla. Whole chicken thighs are braised in a tomato- and chipotle-based sauce, shredded, and served as a tostada or taco. Our New Mexican version is spicier and uses dried New Mexico red chile rather than smoke-dried jalapeños (aka chipotle).
I grew up with this version, so my first true Mexican tinga was a welcome surprise. It was less spicy, but the smokiness from the chipotle was fantastic. I've since blended both recipes for my ideal tinga. It's no surprise then that I immediately made this upon trying Chili Beak for the first time.
The smokiness and spice from Chili Beak makes my endeavors infinitely easier and as delicious as the original recipes. I love making a big batch to last for a week and revisiting it for dinner every other night. Just gently rewarm in a sauce pan and enjoy all over again as a tostada, taco, or over greens.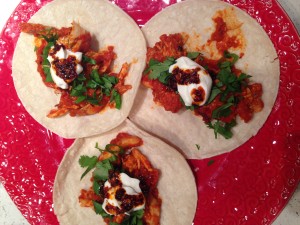 Chili Beak Chicken Tinga Tacos
Serves 4-8
1/4 cup olive oil
2 pounds skinless chicken thighs (preferably bone-in)
Salt
1 onion, thinly sliced
4 garlic cloves, minced
One 28-ounce can crushed tomatoes
3 tablespoons Chili Beak
1 cup chicken stock
For Serving:
Corn tortillas
Avocado
Scallions
Cilantro
Cotija or sour cream
Preheat oven to 350 degrees. Season chicken thighs with salt and brown in a skillet with olive oil over medium-high heat, about 10 minutes. Remove to a baking dish and set aside, leaving oil and fat in the skillet. Add onions to the skillet and saute until softened and beginning to brown. Add garlic and stir until fragrant. Add tomatoes, Chili Beak, and chicken stock. Bring to a boil, then simmer 10-15 minutes. Transfer to a blender or use an immersion blender to puree until smooth. Pour over chicken and bake about 30-40 minutes, until edges are dark and chicken is very tender.
Remove chicken from the sauce and shred with two forks. Return to the sauce, and serve with taco accoutrements.