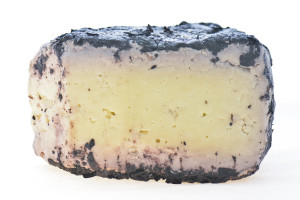 Caputo's "centerfold" cheese for the month of March is sweet, savory Testun al Barolo, a cheese that dazzles both the eye and the palate. Testun al Barolo hails from Italy's Piedmont, where cheese maker Beppino Occelli lovingly ages the mixed cow and goat's milk cheese, then encases it in the "must" left from making Barolo wine. It is this thickly-packed coating of spent grapes, seeds, and stems that unlocks the cheese's potential and inspires us to new heights at Caputo's.
The cheeses of the Piedmont are a diverse group that manifest the region's long history of swinging back and forth between French and Italian possession, which the people of the Piedmont endured for hundreds of years. It is this series of cultural influences that allowed soft, delicate Robiola types to arise in the same time and place as hearty Testuns, a family of cheeses called "stubborn" or "hard-headed" for their durability and how challenging they are to produce. The cheeses of the Piedmont are now considered to be among Europe's most sophisticated, embodying French delicacy, Italian ingenuity, and the Piedmont's special brand of refinement.
It is this wild blend of delicacy, ingenuity, and refinement that inspires us to experiment with new forms and flavors in our caves at Caputo's. If you've tried Copper Caputo, you'll know what I'm talking about. The Maraschino and Montmorency cherry flavoring for the cheese was pure Copper Onion inspiration, but it was Testun al Barolo that showed me how to make the cheese work, and how to age it.
As they say: imitation is the sincerest form of flattery. Occelli's Testun al Barolo (and others in that vein) allow us to analyze and learn from the masters of these unusual forms. Studying this cheese broadens our understanding of affinage and where we can take it. At Caputo's we're committed to this exploration and experimentation, so stay tuned for more "inspired" cheeses with special Caputo's Cave twists!
P.S. You can read more about our second cheese cave here!