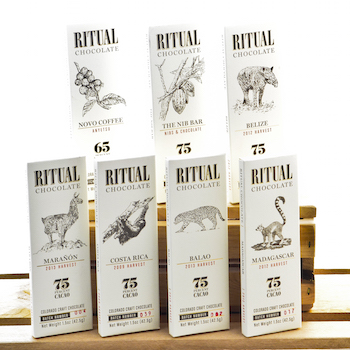 For at least the past three years, I 've been preaching that Utah is the bright center of chocolate culture in the U.S. This year, Ritual Chocolate has proven me right by uprooting its entire operation from Denver and transplanted to Park City.
It's not like Denver is some culinary backwater, where the chocolate and culinary scenes aren't thriving. Quite the contrary—Denver is a booming foodie town, and Ritual had been adopted with great zeal into the community. Too bad for Colorado that Utah just has too much chocolate gravity for such an excellent company to resist once exposed to it.
Robbie Stout and Anna Davies, the husband and wife who own and operate Ritual, often visited Robbie's family in Park City, where he grew up. Sure our access to the outdoors is far superior to Denver—we all know that. But I would like to think that after seeing the unparalleled energy and chocolate appreciation from our local food community at Caputo's 2nd Annual Chocolate Festival, plans were set in motion. Alright, maybe I give myself too much credit. You'll have to ask Robbie and Anna if you want the whole truth.
Nonetheless, no serious craft chocolate connoisseur would dare argue that Ritual is not one of our country's Top 5 elite chocolate makers. So whatever the reason for their move, we win.