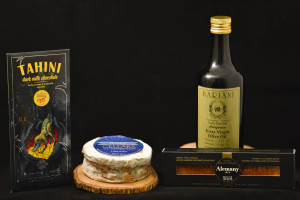 If 2015 is going to be anything like 2014, I'm going to be excited about a lot of things going on at Caputo's. Our chocolate selection drastically increased, our cheese cases abounded with new pastes and rinds, we found some amazing new meat and charcuterie choices, and, most importantly, CHEESE CAVE NUMBER TWO! See how excitable I can become?
We've been trying to corral our excitement for all these delicious things that have graced our palates, but we just can't. Please join us on a monthly food voyage where we discover food in a new light with a special emphasis on individual products, origins and tastes. Become more familiarized and get to know your food better.
In the months ahead, look for a consistent dose of credible food knowledge with our monthly cravings. We'll introduce you, or reintroduce in some cases, to the cheese, chocolate, sweet, and savory ingredients that we just can't get enough of.
What's more, we'll include recipes, drink pairings, serving suggestions, and those little tidbits of information for you to share with your friends that will lead them to believe you are the almighty foodie friend. Each selection will get its very own time to shine whether it's a new blog post, Facebook blast, or artistically styled Instagram photo. With food this good, we can't help but share.
So, without further ado, meet our very first cravings of 2015: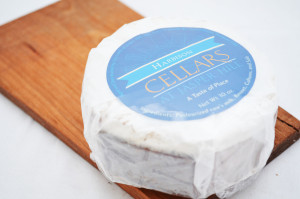 It's love in cheese form, and this little guy already has his first love note from Evan!
This is the perfect blend of centuries-old French cheese making and American artisan passion. Like Evan says, don't over-think this one. It's perfect as is. Spread on baguette or scoop with spoon from a wheel to your mouth. We're not kidding here about how fantastic this is on its own.
Really, this is an American gem. What's more, it is perfect right now. Be sure to get your fill before someone else does!
CHOCOLATE: Mulate Tahini
From the makers of Chocolate Naïve comes Mulate,
the funky fresh younger brother to the sophisticated Naïve line. Bold, breathtaking chocolate meets salty Tahini for a combination meant only for the most wonderful people in the world, you! Think classic peanut butter and chocolate, but instead with really, really good dark milk chocolate and elevated by the flavor of classic sesame paste.
Once you open a bar and have a few nibbles, it's pretty impossible to stop nibbling until it's gone or your spouse rips it from your clenched fists. I'm hoping someday to get past this so I can start to experiment with a few baking and ice cream applications. Until then, it might be best to enjoy alone or with people who love you enough to see pass your chocolate obsession.
SWEET: Turron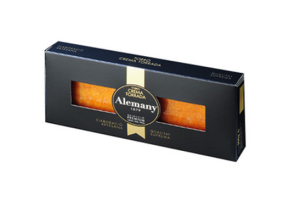 If there was ever a treat made for royalty, it was turron. This delicate combination of almonds, honey, and egg whites is the stuff dreams are made of. Traditionally eaten around Christmas, this treat has transcended the holiday lineup to a year-round treat for us. It's dreamy, I tell you. So dreamy in fact, I'm dreaming of financiers made with torrone beneath sticky honey roasted fruit. What could make that even better? More torrone, this time, in semifreddo form. Stay tuned for recipes, you'll be glad you did!
SAVORY: Bariani Early Harvest EVOO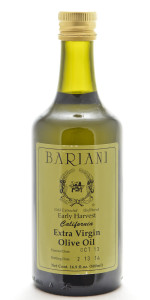 As the harvest of late fall/early winter comes and goes, the newest and freshest extra virgin olive oils are released to the masses. Our very favorite domestic olive oil is worthy of international awards, and I can't wait to get my hands on a new bottle. The Bariani family has historical roots in Lombardia, but now call California their home and playground helping to create truly beautiful olive oil. The possibilities here are endless. So endless, that there should just be a bottle placed in the kitchen and another on the dinner table. It's perfect for drizzling over roasted meats and veggies, tossing with pasta and a few other choice additions (read: cheese), or as the ulitmate condiment to be drizzled over every single thing that touches your table. See? Easy.
That's it, friends, our latest and greatest stuff of the month. January has been so good to us already, these four treats are only going to make it better and more delicious. Stay tuned for more blog posts, recipes, pictures, and musings. We can't wait to share!