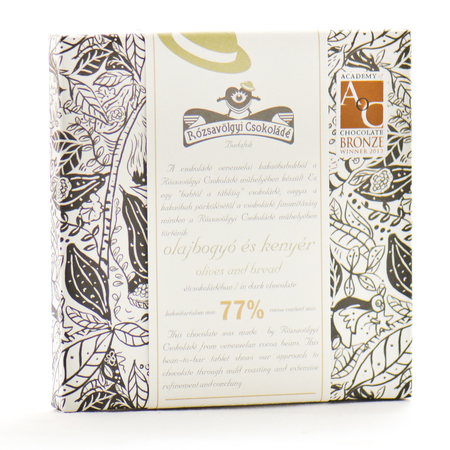 When you enter the downtown Caputo's, the entrance splits one way toward our award-winning market and the other way towards our deli—likely with a long line of hungry lunch-goers. Right there in the middle lies our vast, beautiful, and inviting fine chocolate selection. It draws you in like a warm, chocolatey hug.
We have a massive selection of outstanding bars, packaged like the most exquisite of gifts. I'm not ashamed to admit my attraction to pretty packaging, and we've recently added a brand that attracts everyone: Rózsavölgyi Csokoládé.
Fine paper with intricate designs wraps around square bars of chocolate; it doesn't beg for attention, but it definitely wins you over sitting prettily there on our shelves. The closer you get, the jumble of letters becomes no less recognizable or easier to pronouce. Heck, it's downright intimidating.
I was able to move past my inability to pronounce Rózsavölgyi Csokoládé to try the bar. I nibbled away happily while scouring the internet for help with getting that name out of my mouth correctly.
Google Translate has helped me enough to be comfortable saying it without entirely butchering the name. Jay, one of newest members of our Caputo's family, was lucky enough to include Rózsavölgyi Csokoládé as a stop on a recent visit to Budapest (insert envious eye rolls here). Jay met the chocolate makers, saw the process of making their bars, and even returned with this video of Zsolt himself pronouncing the name properly. Who better to learn from than the creator himself?!
Watch the video as many times as is needed, and come see us for a taste of these amazing bars. We're still reeling from the amazing flavors of Rózsavölgyi's Olives and Bread 77% bar from our June Cravings. Be sure to get in on these before they're gone!