Cheese Caves
ONLINE CLASS
Our passion for cheese is palpable. Learn about our ever-growing affinage program, our two cheese caves. Affinage is a large part of our award-winning cheese program, and our current projects are both exciting and delicious. We'll spend the evening discussing all things cheese, affinage, and we'll provide enough tastes for you to choose your favorite of our many undertakings.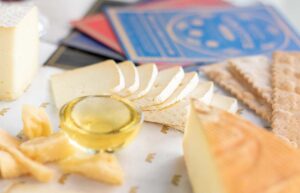 Details, fine print, and what to expect at one of our virtual classes:
Tasting kits will be shipped to arrive a day or two before class. Please keep any perishable items refrigerated until an hour before class begins (and try not to eat anything before class!)
Each kit will contain roughly 1/5 lb of each item, this is enough for a couple to enjoy for days after class or for a large family to participate together
Pick up is available the week of the class at our Downtown store as soon as our welcome email has been sent
We'll email guests the week of the class with a link to our online class and more tips to make your online class its best and most delicious

Please note: All online cancellations require 72 hours notice. Food is prepared and shipped in advance and cannot be re-purposed.