Dark Beer & Cheese
NOTE – CAPUTO'S CANNOT SHIP BEER!
We will ship you a full tasting kit of food, but you are responsible for buying beer at a local store. Please see below for what beers to purchase before class begins.
ONLINE CLASS
Give in to the dark side. Learn about the darker side of brewing by exploring the history of beer and origins of many modern varieties. The complexity of flavor compounds present in styles like porter, stout, brown ale and schwarzbier brings to mind the intricate worlds of coffee and chocolate and like both, pairs amazingly well with food. We will sample through pairings both sweet and savory to produce incredible flavor results and interesting combinations. And as a nod to Valentine's day, there will be a focus on chocolate. Find out why beer is excellent with dinner as well as dessert!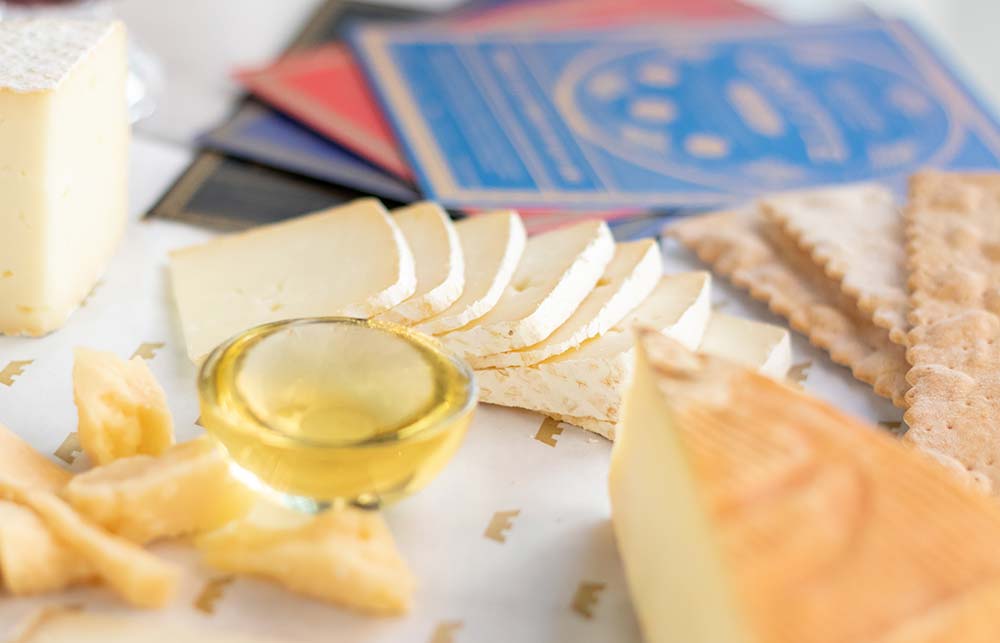 Details, fine print, and what to expect at one of our virtual classes:
Class begins at 6pm MOUNTAIN TIME via Zoom
Tasting kits will be shipped to arrive a day or two before class. Please keep any perishable items refrigerated until an hour before class begins (and try not to eat anything before class!)
Each kit will contain roughly 1/5 lb of each item which is enough for a couple to enjoy for days after class or for a large family to participate together
Pick up is available the week of the class at our Downtown store as soon as our welcome email has been sent
We'll email guests the week of the class with a link to our online class and more tips to make your online class its best and most delicious
Beers to purchase for class:
Schwarzbier: Proper Brewing Co. Thunder Mountain, Stats: 5.0%ABV

Notes: smooth, soot and char, some sweet malt and caramel, coffee and roast, smooth light
Substitute: Schwarzbier literally means "black beer" and any "black lager" will work here. Ideally it's something traditionally German in style and actual black. Dark Lagers, brown lagers, copper lagers, etc. will be too light, so prioritize finding a true lager that is as close to black in color as possible.

Brown Ale: Cigar City Brewing Maduro Brown Ale, Stats: 5.5%ABV

Notes: deep rich brown sugar, toasted bread, spice, molasses, sweet, nutty
Substitute: Almost any brown ale will be good for this, but avoid anything too strong or 'imperial' as well as anything too hop focused. The goal here is a medium-strength brown beer, on the sweeter end without being too dark. Even something as common as Newcastle Brown Ale works in a pinch.

Porter: Wasatch Brewery Polygamy Porter NITRO, Stats: 6.0%ABV

Notes: milk chocolate, toffee, smoke, some roast, little nutty, blackberry, smooth
Substitute: Porter is all about smooth chocolatey roast flavors versus the more assertive bitterness and char found in most stouts. Try for something of roughly equivalent strength. Bonus if you can find a can/bottle with NITRO on the label. Left Hand Nitro Mil Stout will do in a pinch here too.

Stout: Guiness Extra Stout, Stats: 5.6%ABV

Notes: licorice, burnt toast, coffee, dark chocolate, cherries, raisins, some hop bitterness
Substitute: Guiness is among the most iconic beers in the world and should be available almost everywhere. Note, this is not regular Guiness, but the Extra Stout, a stronger, more intense beer. Most American stouts will work, but stay away from 'imperial' stouts, although they will be discussed. Also avoid 'milk,' 'cream,' or 'pastry' stouts or anything else flavored, as they will be too sweet.
Meet your instructor – Rio Connelly
Rio Connelly is a professional brewer with over a decade of experience in the Utah Craft Beer scene. Having originally discovered a passion for brewing during college in Washington state, Rio has been experimenting with new styles, creating menus and writing about craft beverages at SLUG Magazine since his return to Salt Lake City in 2008. Helping to open Epic Brewing in 2010 and then starting the Avenues Proper restaurant and pub in 2013 were foundational learning experiences. With his business partners, Rio oversaw the expansion of the Proper brand to four locations including three restaurants, two bars, and two breweries. He is a Cicerone Program Certified Beer Server, a Recognized BJCP judge, and has attended classes at the Siebel Institute of Tehcnology, America's oldest brewing school. "Watching Utah's craft beer scene expand and grow has been a real pleasure for me," Rio says, "the last few years have seen beer in our state only get more diverse and interesting." In 2019, Rio departed from Proper to start Faultline Beverage, a consulting firm focused on helping startups realize their vision, and working with with brewers and other producers passionate about their product.