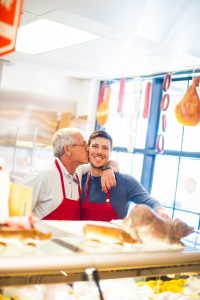 There are food lovers. Then there are food nerds. Our market staff is not only friendly, but they're downright knowledgeable about the food. Through hands-on training, workshops with food artisans, and a sheer love of the good stuff, Caputo's staff strives to provide customers with the best flavors from around the world as well as from local producers.
When you visit the shop, it's perfectly fine to ask for a sample of cheese or something that catches your eye from our Cheese Cave. Have a question about olive oils? Our folks will help you find the perfect one by sampling and explaining each bottle.
You get the picture. If you have the time, we have the samples. So go ahead and ask. We'd be happy to help.