PRE-SHIPMENT PROCESSING
Orders, including expedited, require processing time before shipping and will ship by the next business day (e.g. orders submitted on Friday will ship by Monday, assuming no holidays). While not guaranteed, we do our best to accommodate requests for faster or delayed processing.
Exceptions, for which we'll attempt to contact the buyer, may include:
orders requiring further information, or
heat-sensitive orders at risk of sitting in warm holding facilities over the weekend.
SHIPMENT & DELIVERY
Packages go out Monday thru Friday (except some holidays) to all fifty U.S. states via U.S. Postal Service or FedEx.
Some orders require additional packaging, such as cold packs and insulation for heat-sensitive orders traveling through warm weather. Additional fees may apply at checkout.
Delivery times (after processing) are as follows:
Flat Rate: 2-7 days (free on chocolate, tinned seafood, bitters, and orders over $75)
FedEx Home Delivery: 1-5 business days (see map below)
FedEx 2-Day: guaranteed 2 business days
FedEx Overnight: guaranteed next business day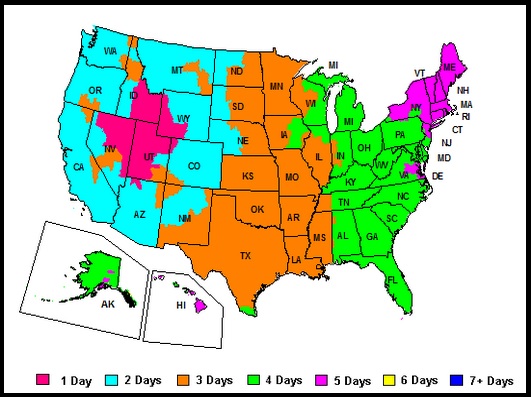 FedEx Home Delivery Transit Times
ONCE IT'S ON ITS WAY
The carrier assumes liability for the package, contents, and delivery once they pick up the shipment. The buyer should contact the carrier to resolve delivery issues. Caputo's is not responsible for delays caused by shipping carriers.
The recipient assumes liability once a shipment is delivered. To ensure quality and prevent theft, we recommend:
shipping to secure/cool delivery locations, 

making sure packages are promptly retrieved and properly stored,

watching tracking updates (courtesy tracking is available for most packages), 

checking mailbox, mail locker, front desk, porch, neighbors, or other locations, and 

shipping to an alternative address if problems have arisen in the past.
Please feel free to reach out with questions. We're committed to helping resolve issues however we can.
CANCELLATION POLICY
Cancellations are guaranteed until the order is being prepared for shipment. We do our best to track down and cancel unshipped orders upon request.
RETURN POLICY
You may return most new, unopened, non-perishable items within 7 days of delivery for a full refund. We'll pay return shipping costs if the return is a result of our error.
Please allow up to four weeks (most are faster) for returns to:
arrive at our warehouse (up to 10 business days) and
be processed and posted to your account (up to 10 business days).