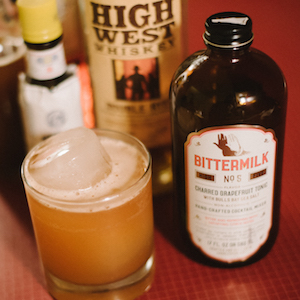 The art of mixology and craft cocktail making is a fine one, indeed. And the recent resurgence of finely tuned drinks circa pre-Prohibition have added much to the nightlife scene in Utah and the U.S.
The trusty bar people at our favorite watering holes here in town make drinks that are worth every penny. But for those of us who want to add a little panache to our family home evenings or impress our guests during cocktail hour or just, simply, class up any ol' night, this art isn't out of reach, especially with Bittermilk Cocktail Mixers.
These little bottles of liquid gold make building craft cocktails simple, yet delicious. Bittermilk was recently highlighted in Wall Street Journal—and for good reason. It's an incredible product.
We at Caputo's have been craving the Bittermilk Charred Grapefruit mixer, so I decided to invent a little drink (pictured above). You could simply just add vodka or rum to this serum, then shake, pour over ice, and add soda water (as the label suggests), but why not give it a little more somethin'-somethin'.
The Alpenglow 
Combine all ingredients over ice in a shaker. Shake well for 20 seconds. Strain and pour over one large ice cube or neat in a coupe. Enjoy!