ONLINE CLASS
So, you're throwing a party and you want to have the most delicious and killer board around? We've got you covered. Trying to impress your new in-laws or work pals? We'll take it from here. Charcuterie boards are where any guest will gravitate to for tasty nibbles between stimulating conversations or during commercial breaks. Wow them with expert presentation, pairings, and food knowledge. We'll taste through tasting combinations, talk about how to best serve each item, and how to store any tasty bits that may be leftover.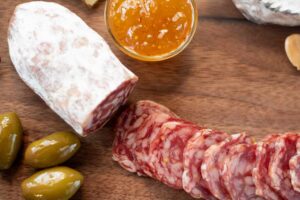 Details, fine print, and what to expect at one of our virtual classes:
Class begins at 6pm MOUNTAIN TIME via Zoom
Tasting kits will be shipped to arrive a day or two before class. Please keep any perishable items refrigerated until an hour before class begins (and try not to eat anything before class!)
Each kit will contain roughly 1/5 lb of each item which is enough for a couple to enjoy for days after class or for a large family to participate together
Pick up is available the week of the class at our Downtown store as soon as our welcome email has been sent
We'll email guests the week of the class with a link to our online class and more tips to make your online class its best and most delicious
Please note: All online cancellations require 72 hours notice. Food is prepared and shipped in advance and cannot be re-purposed.