You've seen the wild things bartenders can make shine in a cocktail. Pasta water? Clam brine? Truffle? Yep, they've done it. Join Clif and Crystal for a surprising class both for you and for them! We'll spend the evening watching them put together a cocktail using a surprise ingredient from the shelves at Caputo's in real time. There's nothing as inspiring as a time crunch, right? We'll see what they come up and we'll be joining you with nibbles, bites, and general merriment.
Please note: All cancellations require 24 hours notice. Food and wine are purchased and prepared in advance and cannot be re-purposed.
Meet your instructors: Crystal Daniels & Clif Reagle
Hi I'm Crystal, and I am thrilled to be your guide into the world of mocktails, cocktails and everything in-between. With over 15 years of bartending experience, I've had the pleasure of crafting drinks at many wonderful establishments. Most recently I ran the bar program at the James Beard nominated Post Office Place, and am now part of the creative team at Bar Nohm. My passion for all things food and drink has led me to compete and win in cocktail competitions both locally and nationally. I have traveled extensively looking to learn as much as I can about "how the sausage is made" and am excited to have you join me in sipping and shaking.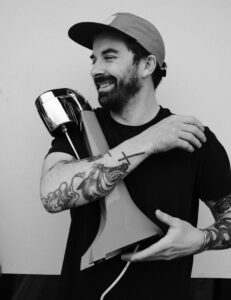 I started working in bars and restaurants almost ten years ago with my first love being wine and my second love also being wine. Eventually I made the move into cocktail bartending and that has been my primary focus for the majority of my career (don't worry me and wine are still close). I've had the privilege of working with the best bartenders in Utah and I've stolen all of their secrets and now claim them as my ideas. Can't wait for you to do the same to me! Only very serious and spooky techniques will be revealed, prepare yourself. – Clif