Tour of Spain
The Spain of the past is back. Franco's reign over this Iberian cultural powerhouse all but decimated the culture of each region in Spain, including their food traditions. Thankfully, we're rediscovering regionally specific food at a rapid rate.  Each region identifies with its own culture. From dialect to recipes for the same dish, the specific flavors of Spain vary from one one historical region to the next. No region is the same, just like no cheese is the same. In a country rich with tradition, we'll explore what makes each region unique and what makes it a valuable addition to the country as a whole.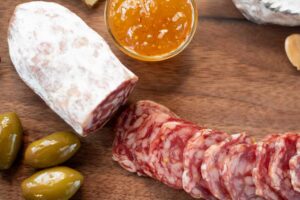 Details, fine print, and what to expect at one of our virtual classes:
Class begins at 6pm MOUNTAIN TIME via Zoom
Tasting kits will be shipped to arrive a day or two before class. Please keep any perishable items refrigerated until an hour before class begins (and try not to eat anything before class!)
Each kit will contain roughly 1/5 lb of each cut item and a full retail package of other items, this is enough for a couple to enjoy for days after class or for a large family to participate together
Pick up is also available the week of the class at our Downtown store as soon as our welcome email has been sent
We'll email guests the week of the class with a link to our online class and more tips to make your online class its best and most delicious
Please note: All online cancellations require 72 hours notice. Food is prepared and shipped in advance and cannot be re-purposed.