"Ask Matt Caputo" is a new, ongoing feature where Matt answers commonly asked questions from the market. This week, he discusses how the shape of pastas will affect taste and texture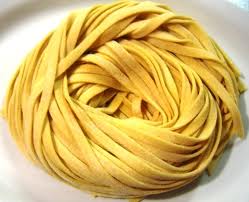 Q: Do various pasta shapes taste differently, or is it just about texture?
A: Different shapes of pasta, even though they might be made by the same brand with the same ingredients, will actually taste differently. Differences in texture will affect how we experience both the taste of the sauce and the pasta. 
Take two examples from the extremes: Capellini (tiny hair-like threads) and Calamaretti (thick squid-like ringlets). Both are made from two ingredients: durum semolina and water. The Capellini threads are cut into shorter and shorter threads by the tooth, but are rarely actually smashed and ground by the tooth before swallowing. The Calamaretti, however, are thick and will have a richer texture as the tooth smashes through and releases creamy textured starches, which are also rich in grain flavor. 
The heavier Calamaretti will lend a creamy, almost porridge-like flavor to the pasta dish. The ringlets are also great at catching large chunks of coarsely hand-ground tomatoes or other large particles, such as vegetable slices, cubes of pancetta, and so on. If you've never had it, Maestri Pastai's Calamaretti will show you that dried pasta can be far better than most fresh pasta. 
Disclaimer: While Matt Caputo is a Certified Cheese Professional and specialty food fanatic, he is not a medical professional, doctor, or certified nutritionist. Please consult with your doctor or other qualified health care professional before making any healthcare decisions, diagnostics or treatment decisions based on Matt's answers.