So, did September actually happen? Between the warm weather and busy schedules we've kept here at Caputo's, I'm quite positive we jumped right from August to October. I'm just starting to pull my sweaters and comfy socks out of storage and see cute posts of friends getting their hands on the the season's first pumpkins. I'm ready for cozy dinner parties, hot drinks, comforting stews, and all the wonderful traditions of autumn. We're keeping things fun and festive this month to help you welcome the cool weather in tasty fashion. Here's what we'll be noshing on this month.
PANTRY: Maestri Squid Ink Spaghetti
There is really nothing better in life than a plate of high quality pasta. If the quality is there, I could not care less about the sauce accompanying it or the vessel in which it is served. I would argue that bronze dye extruded shapes and artisan style pasta is a dying art form that is giving way to slippery, cheap teflon-cut noodles. Dear friends, they are not the same. The ideal pasta is roughly textured on a molecular level, creating a sponge-like surface that holds sauce to itself rather than floating in a puddle of it. There is a toothsome texture and flavor from the grains it was made from. To have the best pasta is to have life. Seriously, this is the stuff of gods. I say you've earned the right to a better pasta, don't you?
Maestri is handmade and extruded by master pasta maker Giovanni Castiello in the most attentive, dedicated fashion. Castiello has traveled across all of Italy to learn and perfect over 80 shapes of pasta. Each shape receives the same TLC and attention to detail as the next. This black—dare I say spooky—spaghetti is colored with squid ink and is the perfect base for a seafood-laden dish. Keep it simple with garlic, oil, herbs, and your shellfish of choice, or let your creative juices flow with a combination of flavors. We're loving an 'nduja-spiked tomato sauce with scallops, shrimp, and clams. I dig it so much, I'll likely have to share the recipe it with you.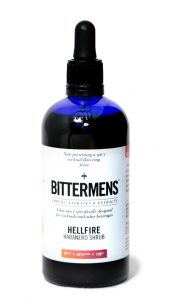 BAR: Bittermen's Hellfire Habanero Shrub
More from the master of all things specialty food, Matt Caputo: "As bitters makers go, Bittermens has mastered the technical skill needed to perfectly execute consistent, quality bitters. Despite all that precision, none of the artistry is lost. In fact, these are some of the most creative concoctions found anywhere, flavors that pay homage to pre-Prohibition era cocktail culture but have a wide arc all their own. Bittermens is for the barkeep who has mastered the classics and is ready to create."
Bittermen's spicy little shrub is a perfect way to add a spicy kick to cocktails and food alike. I find myself adding this to everything from sauces for tacos and enchiladas, tomato sauces for pasta, tequila cocktails, and spicy brownies. This shrub is the perfect balance of acid and spice.
The hardest part of getting your hands on this bottle is then deciding whether to store it in the bar or pantry once you've brought it home.
CHOCOLATE: Marou Heart of Darkness
Don't you wish Matt Caputo could narrate your entire food journey for your entire life? This is as close as we can get, but it's pretty fantastic, right?
"Marou evokes many thoughts and emotions. From exhilaration, lust, fear, and back to comfort. It is an incredibly complex and exotic chocolate. It manages to be ethereal and visceral at the same time. On the one hand, it is like an exotic and mysterious woman whispering in a language you can't remotely comprehend. On the other, it is like a musical journey from slow Asian instrumentals to death metal.
Using 100-percent Vietnamese ingredients, including shade-grown cacao from five different provinces, Marou captures aromas and flavors never before experienced by our Western palates. While it will take us much more tasting to really get to know the soul of Marou's chocolate, one thing is perfectly clear: The two French expatriates behind Marou who live in Vietnam make chocolate that is a cousin to French cuisine, but distinctively Vietnamese. Marou makes globalization look sexy."
It can't get much darker than 85% without beginning to lose its palatability. Marou has mastered the art of creating a super-dark chocolate that is still super delicious. Some chocolate with this percentage of cacao content are far too bitter, and I find myself wishing for just a touch more sugar. Not here. You'll love its deep and dark complexity and its full flavor and nuance. Plus, the nod to the eerie novel from whence its name comes makes it an ideal bar for October.