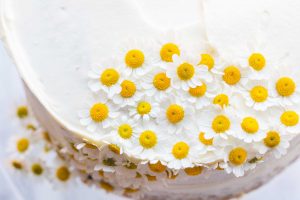 If spring had a cake, it would be carrot cake. At least in my world, that is. My whole being is ready to welcome spring. This last second winter is not working for me, so I'm pretending it's really spring from the comfort of my own kitchen.
I grew up on carrot cakes that were just trying too hard. You know I mean? Have you ever had a carrot that was, just, extra? Too many nuts, an offensive amount of raisins, and piles of cream cheese frosting? Anyone? I now love carrot cake, but it sure took some time to finally come around to it. Now that I'm old enough to make my own decisions, any my own cake, I'm making it the way my childhood self would love it most. Minimal nuts, no raisins, and a smattering of frosting.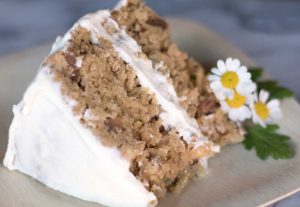 Parsnips have long been a love of mine. They have a more nutty, earthy taste and a spiced finish that makes me weak in the knees. I wanted to pair that earthier flavor with cardamom rather than the classic cinnamon, ginger, and nutmeg combo, and boy am I glad I did. I'm so happy with the resulting flavor. This recipe is based on Bon Appetit's best carrot cake recipe, but with my own riffs on the spices and a completely different frosting.
Frosting is a touchy subject for yours truly. Cream cheese frosting is often too heavily applied and buttercream is just straight up strange. That weird crusty thing that happens when it sits out? No. Thanks. Instead, creme fraiche and mascarpone are teaming up for a lighter, mellower finish.
I'll be making this for Easter and for any other reason I can find to do so. The recipe is easy to make into cupcakes and without frosting, it could be argued as, dare I say, healthy-ish.
Parsnip Cardamom Cake
Recipe adapted from BA's Best Carrot Cake
Serves 12
Cake
Vegetable oil
1 cup chopped walnuts
1 pound parsnips, peeled, coarsely grated
1 cup buttermilk, room temperature
3 cups all-purpose flour
2 teaspoons ground cardamom
2 teaspoons ground ginger
2 teaspoons baking powder
1½ teaspoons kosher salt
¾ teaspoon baking soda
4 large eggs, room temperature
1 cup granulated sugar
¾ cup dark brown sugar
1 teaspoon vanilla extract
1 teaspoon Addition cardamom tincture
¾ cup vegetable oil
Frosting
Preheat oven to 350°. Lightly coat two 9″-diameter cake pans with vegetable oil. Line bottoms with parchment paper rounds; lightly coat rounds with nonstick spray.
Toast walnuts on a rimmed baking sheet, tossing once, until golden brown, 8–10 minutes; let cool. Combine carrots and buttermilk in a medium bowl.
Whisk flour, cardamom, ginger, baking powder, salt, and baking soda in a large bowl. Using an electric mixer on high speed, beat eggs, granulated sugar, brown sugar, cardamom tincture, and vanilla extract until pale and thick, about 4 minutes. Reduce speed to medium-low and gradually stream in oil. Add dry ingredients in 3 additions, alternating with carrot mixture in 2 additions, beginning and ending with dry ingredients; mix until smooth. Fold in  walnuts with a rubber spatula. Scrape batter into prepared pans.
Bake cakes, rotating pans halfway through, until a tester inserted into the center comes out clean, 35–45 minutes. Transfer pans to a wire rack and let cakes cool 10 minutes. Run a knife around sides of cakes and invert onto wire rack; remove parchment. Let cool completely.
Using an electric mixer on high speed, beat creme fraiche and mascarpone in a medium bowl until smooth, about 1 minute. Beat in vanilla extract, tincture, and salt. Reduce speed to low and gradually mix in powdered sugar. Increase speed to high and beat frosting until light and fluffy, about 2 minutes.
Place 1 cake, domed side down, on a platter. Spread 1/2 cup frosting evenly over top. Place remaining cake, domed side down, on top. Spread top and sides with 1 cup frosting and chill 30 minutes to let frosting set. Spread remaining frosting over top and sides, swirling decoratively.