It's Fulvi week here at Caputo's. We're celebrating the centuries long tradition of Pecorino Romano cheese made from Roman sheep's milk by highlighting the only true Roman pecorino available in the US – Genuine Fulvi. While Pecorino Romano is part of the noble list of legally protected cheeses in Italy, there is a surprising amount of latitude for production spanning from Sardinia and  Lazio as well as the province of Grosseto in Tuscany. The allowance of other regional milk not only makes the name less true, but it disregards the terroir of milk. We often reserve the use of the term for wine and, more recently, chocolate; however, cheese holds the same key environmental factors that affect a food item's flavor from farming practices and specific growth habitat from the milk of the animals and the plant matter consumed to create that milk. With that in mind, Pecorino Romano Genuine Fulvi holds true to the name, place, and intrinsic flavor we believe people should know, taste, and enjoy. This is our chance to shed light on these practices and to celebrate the artisans producing the truest form of this more than 2,000 year old cheese making heritage.
Join us in our celebration of Genuine Fulvi by trying any of the Fulvi-centric specials at our Caputo's locations, by creating your own traditional dishes like Cacio e Pepe and Carbonara, by enjoying this Spring with fresh fava beans just like the Romans do, or try my contribution to Fulvi week – a sweet, bitter, earthy, and very Fulvi salad.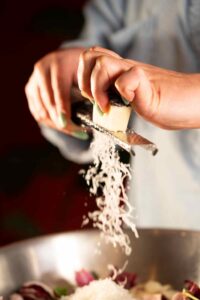 A Very Fulvi, Very Italian Salad
Serves 4
1/2 cup walnut halves and pieces
One head radicchio, core removed and roughly chopped
One cup arugula
2 pears, D'anjou or Bosc, quartered, core removed, and thinly sliced
1/3 cup Honey Som Cane Cordial  
Condiment grade olive oil (Viola, obvi)
Kosher salt and black pepper, to taste
Preheat oven to 350 degrees and toast walnuts on a baking sheet for 12-15 minutes. While the walnuts are toasting, mix radicchio, arugula, and pear slices in a large bowl. Sprinkle with a pinch or two of salt and mix with your hands to pre-season. Drizzle half of the Honey Som over the mixture and toss. Taste before adding more to ensure it suits your taste. Using a fine rasp grater, grate the Pecorino Romano Fulvi over your greens and pears. Add walnuts and toss to combine. Portion the mixture onto plates and finish with a drizzle of condiment olive oil and a fresh grind of black pepper. Serve immediately.