When Caputo's asked me (aka Crybaby Bitters) to serve drinks at this year's Chocolate Festival, it took me about one minute to decide what beverage I should make. The featured chocolate producer for the festival was Marou and my assigned chocolate bar of theirs was named "Treasure Island"—one that was no longer in production. My drink was supposed to be a sort of tribute to the bar instead of including the actual chocolate in it and with a name like Treasure Island, I immediately knew that I would make a big batch of old-school rum punch.
Not just because the name brings to mind rum, spices, and tropical vibes, but because with an estimated 200 attendees arriving all at once (150 of which would be drinking), there was no way I was going to make every drink to order. I've bartended many large and small private events but have never worked in a bar, so I have been spoiled with the ability to make big batches of drinks without having to meter every single shot of liquor. Punch has always been my go-to beverage for a large crowd because it is cheap, easy to serve, and infinitely customizable.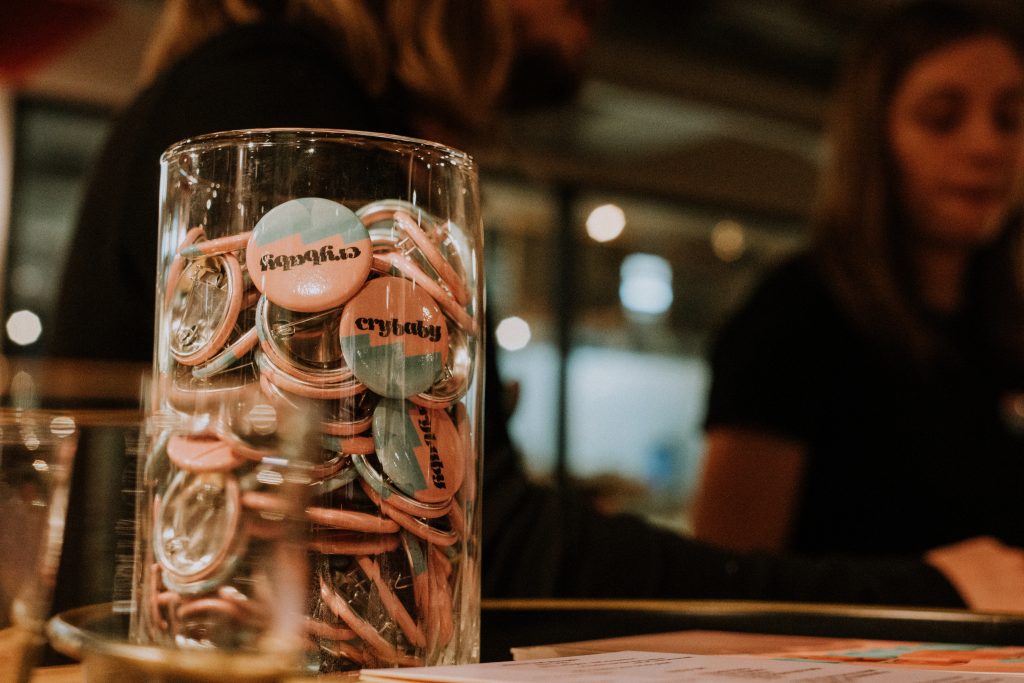 Since Caputo's Chocolate Festival was going to be my first big event as Crybaby, I wanted to make something more complicated impressive than a basic rum punch, which typically includes just dark rum, lemon juice, lemon peels, sugar, and water. I knew I was going to include both of my bitters in it (bay leaf and fruit punch) and I considered infusing the rum with Marou's cacao nibs, tropical fruits like pineapple and mango, or even one of the more exotic fruits native to Vietnam (where Marou is from) such as mangosteen or durian. I decided to test out a recipe with the ingredients I knew would be in the punch before I went shopping for fruits I wasn't even sure I'd be able to find in Salt Lake City, though.
I didn't want to experiment with this punch recipe my making an actual batch of punch (which I usually make with at least a whole bottle of liquor) I set out making a single cocktail-sized version just to get an idea of how the final punch would taste. I started with 2 oz Appleton Estate Signature Blend rum, which I usually choose as the base of my punches because it is cheap and has enough Jamaican rum funk to make even the most basic of punches interesting. To the rum I added 3/4 oz lemon juice, 3/4 oz simple syrup, 1 dash Crybaby Bay Leaf Bitters, and 1 dash Crybaby Fruit Punch Bitters. I shook it all in a cocktail shaker for twice as long as usual with only a few small ice cubes to provide the extra dilution that a punch would have.
I split the drink between myself and Associate Crybaby Alli Matyja, who had volunteered to help workshop the drink. We both nodded in approval but agreed that it could probably use more bitters, so I made another with 2 dashes each of bay leaf and fruit punch bitters. After the first sip of the second version, we both looked up and said, "oh DANG." This was it. On paper it was a pretty simple punch, but the combination of the bay leaf and star anise aromas with the cinnamon, hibiscus, and pineapple flavors from the generous 4 dashes of bitters fully evoked "Treasure Island." Plus, the drink had a nice dusky orange color—very tropical-looking. Alli and I decided that it was pointless to try to overcomplicate the drink just for the sake of being complicated. The dozens of ingredients in the bitters provided enough depth of flavor and aroma and any additional ingredients would have seemed superfluous. Well, that was easy.
Now, to translate the single-serving-sized punch into a batch large enough to serve 150 people.
A one-bottle-of-rum batch of punch ends up being just over a half gallon in volume, which amounts to 20 servings of roughly 3 1/2 oz each. For this batch size I would normally use 6 oz lemon juice (about 4 lemons worth), 6 oz cane sugar, 1 bottle rum, and 1 qt cold water. Although I typically use equal parts lemon juice and sugar by volume, I wanted the Treasure Island punch to be a little less sweet to more accurately match the single-serving test cocktail, so I decreased the ratio of sugar to lemon and multiplied the one-bottle recipe by 8 to cover my bases for (at least) 150 servings. This is what I ended up with:
8 bottles Appleton Estate Signature Blend rum
48 oz lemon juice
32 oz cane sugar
8 qt water
With Alli's help I washed 40 lemons, peeled 32 of them with Y-shaped veggie peelers, and set the rest aside—I always get a few more lemons than I think I need in case they aren't juicy enough to provide the required amount of juice. Alli muddled the lemon peels in the cane sugar for a couple minutes then let it sit for an hour so the sugar would extract the oils from the peels to form a goopy mixture called oleo saccharum. While the oleo saccharum did its thing we juiced the lemons until we got 48 oz of juice—we ended up using a couple more than 32 lemons, so it's a good thing I got extra. When the oleo saccharum was ready, we heated up 1 qt of the recipe's 8 qt water and mixed it in to dissolve the sugar that the lemon oils didn't. Into this we poured the lemon juice, strained it all into a 22 qt Cambro, and poured in the 8 bottles of rum along with the bitters.
If we were making a regular sized batch of punch I would have added the remaining water and chilled the punch before serving. I didn't have enough time or fridge space to chill 4 gallons of punch, though, so we added 7 qt ice water to the container and stirred it until the ice was mostly dissolved before splitting the punch between a couple 2-gallon insulated beverage dispensers and rushing to Caputo's to set up.
The Treasure Island punch was a big hit at the Chocolate Festival and 4 gallons ended up being enough to serve the crowd with even a little bit left over. You probably don't need to make an 8-bottle-of-rum batch of punch, so here's a recipe for one bottle of rum worth.
Treasure Island Punch
Wash the lemons and peel using a Y-peeler. Muddle the peels in the sugar and let sit for an hour to make an oleo saccharum. I like to use unrefined cane sugar that is about as chunky as kosher salt rather than white sugar (which isn't as tasty) or turbinado sugar (which is too chunky to dissolve well in the oleo saccharum). Juice the lemons to yield 6 oz lemon juice. Heat up 8 oz of the water and stir into the oleo saccharum to dissolve the remaining sugar. Add the lemon juice and strain into a pitcher, punch bowl, or insulated beverage server. Add the bottle of rum, the bitters, and the remaining water. You can use ice water and serve immediately or add cool water and chill before serving.