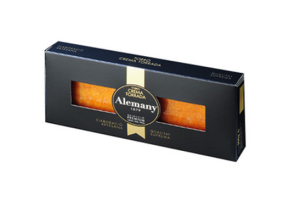 I know, I know. It's January. We're dieting and eating healthy and it's soooo much fun. If you're like me, you've had kale seven different ways already this week and your monthly quinoa intake may be nearing your body weight. It's great to feel good again after the heaviness of the holidays, but I'm getting back into the swing of hosting dinner parties with friends and it's time to get real. It's not a party if there's no dessert. There, I said it.
Yelena has recently gotten me to jump on the turrón bandwagon, and I'm never looking back. This centuries-old combination of almonds, egg whites, and honey is heavenly. We've recently picked up a new brand from Catalonia that's raised the bar for quality of imported turrón. It's transcendent. Light, pillowy, and my favorite version has an added ingredient of burnt sugar. The added complexity is welcome and inspired us to take it to the test kitchen.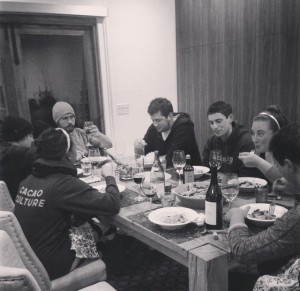 My work family is just that, family. When we get excited about something, we get together to taste, cook, and talk food. We've had many great successes, and a few misses, but our time spent together is always educational and fun. Family dinner is an excuse to have a dinner party with people I love seeing everyday when I walk in to Caputo's. I'm so grateful to spend my days with people that I adore and feel as passionately as I do about food. It's only natural that I stuff them full of dessert, right? And of course, the turrón had to be the centerpiecce. Meet my turrón blondie, lovingly named after my longtime best friend and fellow blondie, Claire. She's my rock and I adore her, just like these treats. Make them for the people you love most and name them after your most beloved blondes.
The turrón has two places in these blondies. Half is beaten into the batter and the other half is roughly chopped and crumbled on top before baking. Brown butter helps give this simple treat a bit more depth and complexity. Top these with vanilla gelato, honey roasted fruit, or a dollop of whipped cream. You can make these two days in advance (or a few weeks if you don't mind freezing them), so they're a lovely, easy end to a meal with your best pals and family.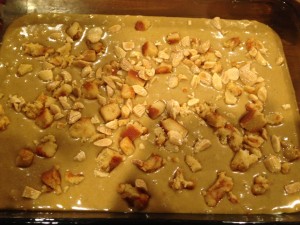 Turrón Blondies (aka Claires)
Serves 12
1 1/4 sticks unsalted butter, plus more for greasing
1 3/4 cup brown sugar
3 eggs
1 stick Alemany Yema Tostada Turrón, or any soft, jijona style turrón, divided
1 teaspoon vanilla extract
1/2 teaspoon kosher salt
pinch ground cinnamon
1 1/2 cups flour
In a medium saucepan (I prefer stainless steel so I can monitor the color easily), heat the butter over medium heat until it reaches a medium golden brown. Transfer to a bowl and set aside to cool slightly. Grease a 9-by-9 inch baking dish with butter and preheat over to 325 degrees.
Beat sugar, eggs, half the turrón, vanilla, salt, and cinnamon together. Whisk in brown butter until combined, then stir in flour. Pour batter into greased baking sheet and spread evenly. Coarsely chop the remaining turrón and sprinkle over the batter. Bake for about 35-40 minutes, or until a knife inserted in the center comes out with just a few crumbs.
Let cool slightly before cutting and serve with ice cream, fruit, or whipped cream.