Leaving Mesa Farm was bittersweet, it's hard to leave a place that holds so much beauty and inspiration. The silver lining of our departure was the promise of Hell's Backbone and Ruth Lewandowski. Boulder, Utah, is an oasis of food in the heart of Southern Utah, thanks largely in part to Blake Spalding and Jen Castle. What was once just another sleepy town for outdoor enthusiasts to refuel is now a destination for both natural beauty and beautiful food. Hell's Backbone Grill is celebrating its eighteenth season of business with a lauded past and promising future. As the restaurant has flourished over the last decade, it's impact on the community has as well. The HBG team now owns and operates its own farm with a team of skilled, driven, and downright impressive farmers. Ruth Lewandowksi Wines will be the newest member of Boulder's burgeoning success, but we'll come back to that shortly.
Our group departed along different roads: one through the heart of Capitol Reef National Monument, the other along Notom Road filled with winding backroads and breathtaking beauty. When just the 60 mile journey is enough to impart wonder and appreciation for our little state, we're living in the right place. We reconvened at Hell's Backbone Farm for a tour and discussion on sustainability in the restaurant, on the farm, and the implications for the surrounding area. Blake led us through the 6.5 acres of farmland while sharing the history of all things Hell's Backbone, past and current challenges, and its bright future. Blake's peace and joy were infectious, the staff was the same. I'd always known farming was not as easy a planting a seed and only returning to harvest, but this became more clear while hearing about both the challenges and small victories they face daily. Though these challenges are certainly not without success. I mean, they harvested over 18,000 pounds of produce in the 2014 season. More astounding than the weight of harvest is that they used all 18,000 pounds at their restaurant. Sustainability is often a fluid, sometimes abused, term in our industry. The Hell's Backbone team is the most true and honest example of what it means to live and work sustainably. All food waste from the restaurant is composted and fed back to the farm, any excess produce is preserved for the winter season, and anything beyond that even get turned over to feed their flock of chickens. After discussing the idiosyncrasies of growing asparagus, we were feasting upon it at the grill not four hours later as part of a meal that left us all with full heart and bellies.
We took a walk to another future farm after visiting the Hell's Backbone Farm (more on that later), and regrouped for dinner at the Grill. The restaurant team was in the middle of launching a new cocktail program during our visit. Convenient, right? We spent happy hour on the patio of the restaurant reflecting on our visit, sharing ideas for new recipes, planning our next visit back, or maybe just never leaving. The cocktails were balanced and delicious and the perfect way to begin our experience at the restaurant. What came next was transcendent. I'm quite positive there has never been a more satisfying meal ever served in all of Southern Utah. Salads and vegetables and soups and proteins arrived in waves. I still get teary eyed at the thought of the sunchoke soup, but each dish was as good as that. Well seasoned, perfectly cooked, made with love.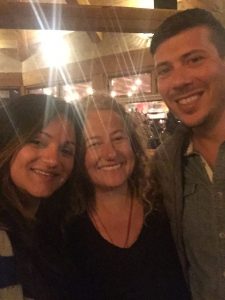 Blake and Jen are shining examples of what happens when love and kindness intersect with food. Quality is a natural priority because honoring the integrity of land and animal existed from the very beginning. Everything at Hell's Backbone feels warm and inviting, it tastes delicious and comforting, and it left us inspired and full.
Part 2 of 4. Go to Part 1: Mesa Farm | Part 3: Lewandowski Wines