Are you a Crybaby? Founder and Crybaby creator, Cody Kirkland, left the early morning third wave coffee scene behind for the late shift and burgeoning craft cocktail community in Salt Lake City. Cody's history of expertly made coffee beverages extended to the pages of Fresh Cup Magazine and garnered attention for his mixed coffee and tea drinks incorporating handmade syrups, tinctures, and bitters. He left coffee with his penchant for creating deep and complex combinations of flavors to birth Crybaby (pun intended). Now, you'll find him crafting unique bitters and preaching the bible of craft cocktailing to SLC locals in his series of cocktail classes. Crybaby's bay leaf bitters are a cure-all for drinks and dishes alike and you won't want to miss his Fruit Punch bitters that electrify the glass in both color and effortless panache.
Without any further ado, please, meet Cody and his first contribution to the Caputo's blog.
—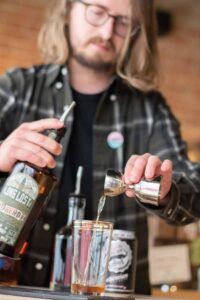 I almost always choose what to drink based on mood and context. Exhausted after a long workday = beers at Fisher. In a great mood on a summer afternoon = daiquiris on the Water Witch patio. Close friend finally got keys to the perfect new apartment = cheap wine while sitting on the bare hardwood floor. There are other moods, though, that are too complicated to prescribe a simple, preexisting beverage or location to. Like autumn. Yeah, autumn is a season but it is definitely a mood. A Big Mood. For me it evokes a lot of visceral memories and feelings: the sweet smell of decomposing aspen leaves in Big Cottonwood Canyon, Nick Drake, an overcast cemetery walk with a new crush, coffee at home on a rainy morning, backyard bonfire beers, the painful death of a past self coupled with the excitement of a fresh start.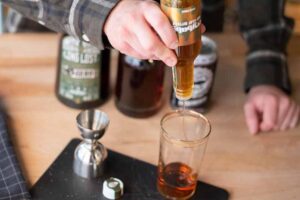 I didn't set out to make a cocktail to encapsulate these feelings or "express myself." It was the first day of autumn and I just felt like a dark beer cocktail, so I threw together a few things I had lying around. But when I sipped the final version of the drink, I thought, "Whoa, this tastes familiar." A couple years ago, when I was managing the Rose Establishment and in charge of the beverage program, I created a weird coffee drink for our autumn specialty drink menu. I called it the Serious Drink because I wanted to evoke the contemplative side of autumn. It consisted of black coffee, lapsang souchong black tea, sage and rosemary tinctures, and chestnut flower honey. It was bitter, woodsy, herbal, smoky, and very serious. This beer cocktail just happened to taste very much like the coffee drink from a couple years ago, but it instantly brought up the same kinds of feelings and memories, both old and new.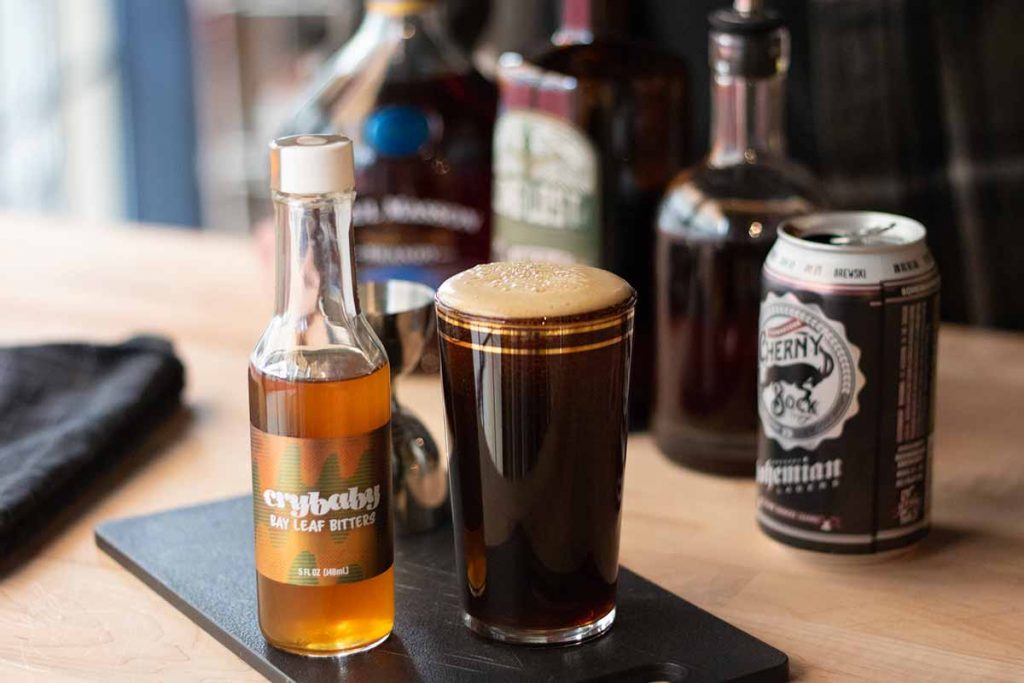 The first version was a bit too bitter. I had mixed 3/4 oz Paul Masson VSOP brandy (because I'm cheap), 1/4 oz Waterpocket Toadstool Notom (because it's delicious), 2 dashes Crybaby Bayleaf Bitters (because I'm the baby), and 1/4 oz simple syrup (just because) in an 8 oz mason jar (because that's all that was clean) and topped it with 6 oz Bohemian Cherny Bock beer (because that's how much fit in the jar). It was pretty good but, like I said, too bitter and also not quite as herbal as I had hoped. I decided to swap out the Notom for Waterpocket's Long Lost Oread, which would cut down the bitterness and up the herbal factor. I added another dash of my Bay Leaf Bitters because I figured the missing Notom would justify the addition of a little more bitterness for the sake of increasing the herbal factor, by way of the bay. It worked: I created autumn in a glass. I decided to name the drink after Lilly E. Gray, the person whose mysterious headstone in the Salt Lake City Cemetery in the Avenues is inscribed with "VICTIM OF THE BEAST 666" because, well, it's Halloween season and it's spooky.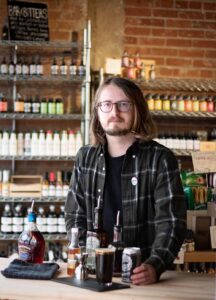 Here is the recipe:
Add the first four ingredients to a very chilled 8 oz highball glass (or mason jar) and top with the beer. Drink it, go on a walk through Memory Grove, and have a nice autumn!