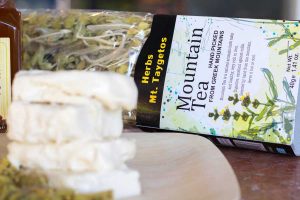 What a week. I swear it was February when I went to sleep. Now I've woken up, and it's May. Not only that – Mother's Day is NEXT WEEK. Cue the panic, the frantic search for flower delivery services, and a general spike in my usual anxieties. After the initial feelings of mayhem subsided, I've turned over a new leaf in life. Spring is the time for new awakening, right? Here's mine – make it simple. Here's my backup – chill out.
Best way to simplify and chill? Semifreddo. It's essentially a frozen treat akin to ice cream, but without the fancy gear and more wiggle room. If you've visited a Caputo's store lately, you'll have likely seen a display or two for Greek Mountain Tea. Matt and Yelena have been drinking it for months, and the rest of us are slowly catching on to their habit. Our Greek Mountain Tea is harvested from the the Taygetos mountains near Sparta. It's herbaceous, minty, soothing, and doesn't do that annoying over-steeping thing that I have a natural talent for. The list of health benefits is shockingly long and includes but, is not limited to the following:
Antibacterial Characteristics
Antifungal Characteristics
Antimicrobial Characteristics
Antioxidant Characteristics
Analgesic (topical essential oil)
Edema Care (inflammation-related)
Fights Colds
Helps Prevent/Cure Inflammation
Immune System
Improves Digestion
Cholesterol Reducer
Exceptionally high iron content
Now, leave it to me to take something healthy -and perfectly delicious already- and add cream to it. But that's basically what's happening here. Think Greek thyme honey sweetened milk tea in frozen dessert form. I'll be serving this Mother's Day weekend since I can prepare it in advance (up to 4 days). All that's needed to serve is a quick few slices, a sweet drizzle of more honey, and a sprinkle of salt. See? Simple.
Greek Mountain Tea Semifreddo
Serves 4-6
In a medium saucepan, heat milk and tea on the lowest setting for 20 minutes, stirring occsaionally. In another small saucepan, heat honey in 1/3 cup water until honey has dissolved. Chill the honey syrup. Strain the milk into a bowl and squeeze the tea to release more liquid. Refrigerate until completely chilled. Your cream will not whip if it's even 5 degrees too warm. Don't put yourself through this torture. Cold cream = happy semifreddo.
Line a medium loaf tin with plastic film. Once the cream has completely cooled, whip the cream until it has thickened and doubled in volume. Fold in the honey syrup plus a pinch of salt and pour into the loaf tin. Wrap in plastic and freeze for at least 4 hours or overnight.
When ready to serve, invert the semifreddo onto a serving platter and drizzle with extra honey and finishing salt. Serve slices immediately-ish (I personally love when the outside has melted).