Beer & Cheese
NOTE – CAPUTO'S CANNOT SHIP BEER!
We will ship you a full tasting kit of food, but you are responsible for buying beer at a local store. Please see below for what beers to purchase before class begins.
ONLINE CLASS
We will be introduced to the wide world of beer and sample our way through a handful of styles paired with the most delicious cheeses from our cave and cases, including our to-die-for house-aged cheeses. Meet our resident beer expert and nerd, Rio Connelly, and glean all you can from his years of beer experience. You'll be amazed at the tertiary flavors you'll taste by pairing beer with our top picks. Learn how to pair a variety of beer styles with your favorite cheeses and why beer is just as food friendly as wine.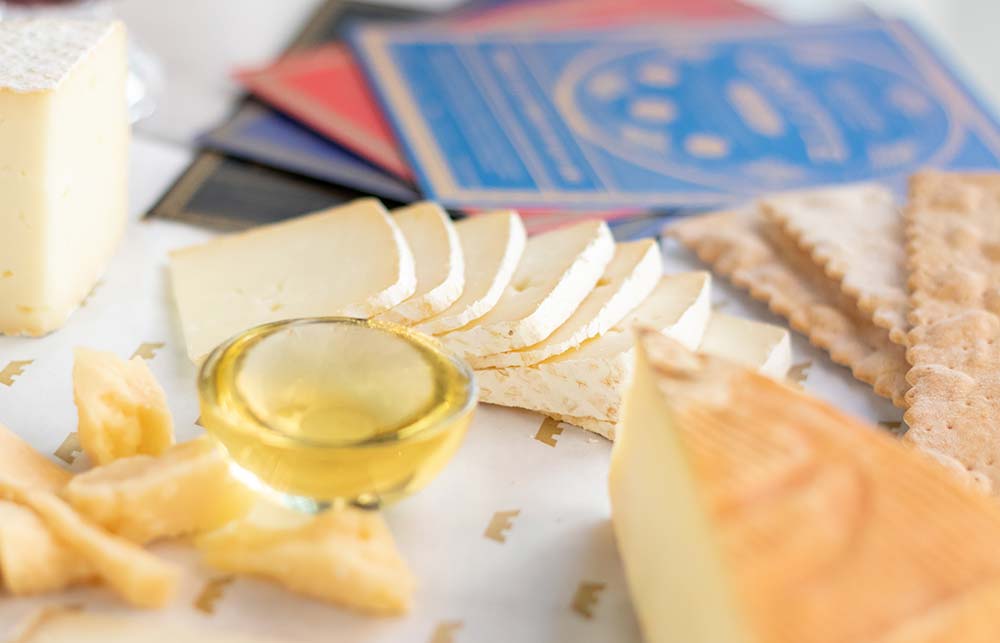 Details, fine print, and what to expect at one of our virtual classes:
Class begins at 6pm MOUNTAIN TIME via Zoom
Tasting kits will be shipped to arrive a day or two before class. Please keep any perishable items refrigerated until an hour before class begins (and try not to eat anything before class!)
Each kit will contain roughly 1/5 lb of each item which is enough for a couple to enjoy for days after class or for a large family to participate together
Pick up is available the week of the class at our Downtown store as soon as our welcome email has been sent
We'll email guests the week of the class with a link to our online class and more tips to make your online class its best and most delicious
Beers to purchase for class:
Light Lager (classic beer):

Full Sail Session Lager


Substitute: Almost any American Craft Lager that's on the lighter side will do here, although we'd prefer not to use 'unfiltered' or 'dryhopped' versions. European lager styles like Helles are acceptable, but only choose a pilsner if it's not very hoppy. The goal here is to taste a classic, iconic beer that's light yellow in color, clean, and cleanly fermented without other flavor additions.
Malt Forward:

Anderson Valley Brewing Co. Boont Amber Ale


Substitute: A good Amber Ale should be available in most parts of the country. Again, lean away from anything with added flavors, or anything too hoppy. We're attempting to delve into the depth of what malt contributes to beer. A good clean amber ale in the 5-6% ABV range is ideal here.
Yeast Forward:

Leffe Blonde Ale


Substitute: We're exploring the realm of yeast flavors with this beer, so seek out a Belgian or Belgian-style beer, ideally in the lighter color range. Don't get too strong, although a Trippel or Golden Strong Ale will do in a pinch. We're looking for Blondes mostly or perhaps Saisons or Farmhouse Ales, as long as they aren't also sour.
Hop Forward:

RedRock Elephino Double IPA


Substitute: IPAs are the most popular craft beer style in the world, so you should be able to find something local and fresh to enjoy. Freshness is important, so prioritize buying beer directly from the brewery, ideally something most similar to a 'West Coast IPA.' It doesn't have to be a 'Double IPA' but an ABV in the 7-8 range is ideal. Stay away from 'New England Style,' or 'Hazy' IPAs for this one.
Sour Beer:

Epic Tart'N'Juicy Sour IPA


Substitute: Ready to explore sour beer? The goal here is specifically to taste a 'Kettle Sour', so don't go for cask-aged styles like Lambics, Wild Ales, or Spontaneous Ales. I'll be tasting a sour IPA, but any kettle sour will do, so a fruited sour or even a Gose will be acceptable here. Ask for a Kettle Sour!
Please note: All online cancellations require 72 hours notice. Food is prepared and shipped in advance and cannot be re-purposed.