Tinned Seafood
ONLINE CLASS
In America, most canned seafood on grocery shelves is not hand-packed by artisans. So it's no surprise the convivial spirit surrounding conservas is absent here. Our aim is to offer products to change this. Just as curing fresh meat creates delicacies like salami and prosciutto, TINNED SEAFOOD is not merely about preservation. In some countries, a culture of connoisseurship surrounds the industry, and its creations are to be appreciated RIGHT OUT OF THE CAN, often with friends and libations.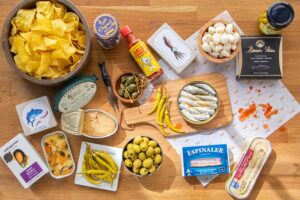 Details, fine print, and what to expect at one of our virtual classes:
Class begins at 6pm MOUNTAIN TIME via Zoom
Tasting Kits will be shipped to arrive a day or two before class.
This shipped kit is enough for a large family to enjoy the class together. If you plan to take the class solo or with one more person, we'll provide storage suggestions for any leftovers you might have so you can continue to enjoy your tinned seafood for days after the class.
Each kit includes a tin of each item we'll taste and discuss in the class, plus our favorite aperitivo sauce and other accouterments to complete the cultural conservas experience! As a bonus, Matt Caputo himself has approved a discount on these tins, you'll be tasting the very best in our stash for a discounted price.
Pick up is available the week of the class at our Downtown store as soon as our welcome email has been sent
We'll email guests the week of the class with a link to our online class and more tips to make your online class its best and most delicious
Please note: All online cancellations require 72 hours notice. Food is prepared and shipped in advance and cannot be re-purposed.