In some ways, things went back to normal after Goat Camp. In other ways, things haven't been the same. The light had changed, maybe. Or maybe I had changed, but things certainly felt different.
Walking back in to Caputo's two days after spending time with Randy at Mesa farm and one day after Hell's Backbone and Ruth Lewandowski was exciting to say the least. I pressed my nose against the glass wall of the cheese cave and admired the rows of Mesa Tome and Barely Legal. There they sat, just as they had the week before we left. Now though, having been where they originated, it felt so much more incredible to see them sitting patiently in cave, taking on bacteria, flavor, and nuance. The mist from the humidifiers created halos around each wheel; they looked saintly as they were anointed with moisture. The light had surely changed, right? Had they always looked this angelic? I couldn't wait to try these wheels, but, it would be days before the next release of Mesa Tome would emerge from the caves and even longer for Barely Legal. I walked by the caves every day, watching Antonia inspect and apply her love to each wheel, impatiently waiting for them to be removed.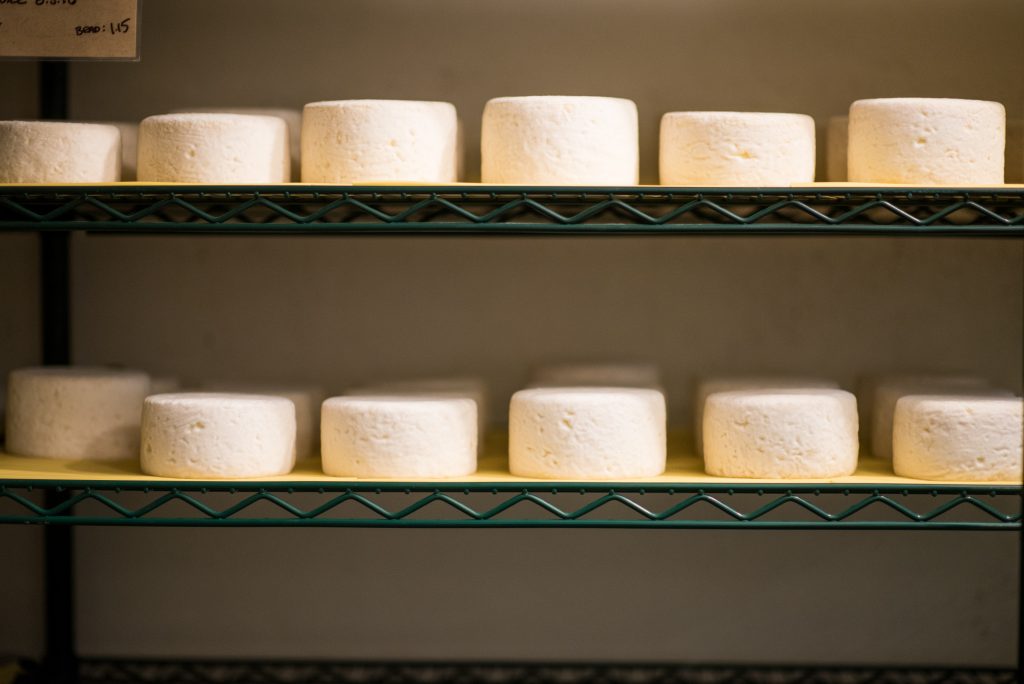 In the coming days, Mesa Tome was released into the hands of many devoted chefs, cheese geeks, and new cheese friends. Each batch changed in flavor based on what was growing near Randy's farm and being able to experience that has been so special. I'd seen where the goats would graze freely, where they were milked, and where Randy deftly created each wheel of cheese. Now, weeks later, seeing, cutting into, and tasting each batch felt ceremonial.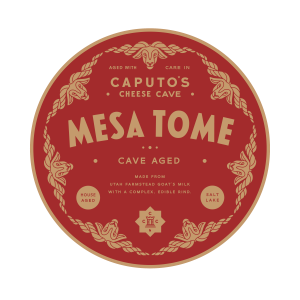 As part of the branding Caputo's has been working on, the darlings of the cheese cave got a little piece of the makeover. Mesa Tome and Barely Legal are part of the Caputo's Cheese Cave program and are sporting new, uber cool threads to prove it. Dan Christofferson took Matt's vision of the future and his fierce protective nature of the past and wrapped these wheels in a visual expression of just that. Each wheel now feels like a work of art and something worthy of honoring both past tradition and future successes. We at Caputo's can't help but gush over the beautiful labels and place them on each piece with just as much care as all the other hands that made these cheeses what they are. In a way, it feels like we've completed the cycle.
You'll see these cheeses all over the valley. The Rose Establishment has a cheese plate that was born from Cori's brilliant mind and participation in Goat Camp. It's on composed salads and nestled into other cheese plates and at almost every class I teach. Find it in a spotlight at Pago, Provisions, Lake Effect, and Cafe Trio Park City. The list will grow, ebb, and flow and it will be because of Randy, Matt, and all of us who take food to heart.
This is the kind of food that brings the most beloved people in our lives around a table and binds us together. A shared meal is one of the most important parts of humanity, this is the tradition that precedes written history and I pray to God it outlives every one of us. When we can no longer gather to eat, we are no longer part of civilization. When I think of my fondest memories, a large amount of them included a shared meal with people that have impacted my life. The food may not have always been the most memorable part, but it was the ritual of sharing a meal that brought these people together in those moments. The laughter, tears, stories, and profound relationships may not have ever existed without first breaking bread. And when the food has been memorable, it's only made the rest of the memory more vivid.
I will make a place at my table for the people I hold dear and the food I most adore. We will always gather, and there will always be food. All will be welcome, because that's the Caputo way.
Part 4 of 4. Go back to Part 3: Lewandowski Wines
Goat Camp 2017 Crew