I can't decide whether it's the cute and confident fish logo, the extensive family history, or just the pure delicious flavors that draw me to Espinaler. Whichever it may be, each tin of fish or bottle of sauce represents generations of hard work. The packaging is playful yet enticing, and what lies within each tin embodies an important piece of tapas culture. In addition, Espinaler's sauce has developed a cult following of late and has become an invaluable condiment to many that try it.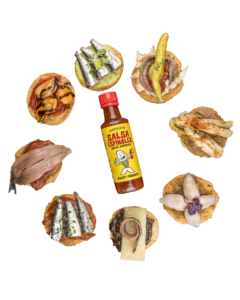 Espinaler was born in 1896 in the area that is now Barcelona. Miquel Riera I Prat opened Taverna Espinaler to provide the classic Mediterranean mix of wine, snacks, and familial ambience to the villagers. When the Spanish Civil War broke out in the 1930's, Miquel's daughter Francisca, bravely took over the family business despite being a widowed mother of four. Located in the first city to be introduced to vermouth in Spain in the 19th century, the founder's grandson Joan Tapas I Riera began adapting the business in the 1940's by selling high quality vermouth, which quickly became one of their most popular products.
Joan continued to expand Espinaler's repertoire of products, introducing fine Galician preserves. His wife then created the noteworthy Espinaler sauce, to perfectly compliment seafood, olives, chips and any salty snacks. Some of my first encounters with tinned seafood were complimented by this sauce, and soon became a must-have for my chronic snacking. The vinegar-based sauce is made with a special selection of spices, quickly becoming their first iconic product, and spurred the Espinaler revolution in the 1970s. The company's focus on fine preserved seafood began with a third generation family member, Miquel Tapias Roldós, who took over the business and started travelling across Spain to the northwest corner region of Galicia. Galicia, known for its estuaries and prominent canning industry, is where he carefully selected the best preserves at auction and continued to pass down the importance of knowledge in choice, which spurred the marketing of Espinaler brand tinned fish.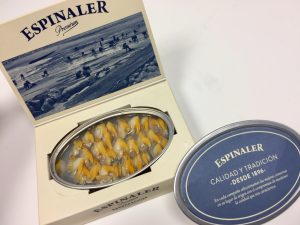 With the arrival of the 21st century, the long-lived family business expanded throughout Spain, and two Warehouse-Tavern-Stores were opened just a decade apart. Since then, run by fifth generation Tapias brothers, Espinaler has expanded to offering its wide range of preserved shellfish, sauces, liqueurs, and other products to Europe, Asia, and America, most importantly Caputo's in good ole' SLC. With such a rich history, David and Miki Tapias continue to strive to uphold the values that are true to the Espinaler brand and were taught to them: "To offer a very high quality product, produced and packed at the right time."
Whether you have a tin of baby sardines with some hot sauce a la carte as a mid-day snack, or an arugula salad topped with pickled veggies and a tin of white tuna in pickled sauce, you've made an excellent choice. Pour yourself a glass of vermouth or your favorite Spanish wine, and transport yourself to a cozy tapas bar buried in beautiful Barcelona (I know that's what I'm doing), and try a tin of fish that's not only packed with the finest ingredients, but also contains over a century of family history, and Spanish culture.