In the nearly 10 years that I've been working for Caputo's, I've seen our selection of fine chocolate bars grow to be one the most robust and diverse collections in the country.
So believe me when I say that I have had a chance to try some really excellent chocolates. However, I have never been more excited about a new brand to our collection than I am about Marou Faiseurs de Chocolat.
Marou is a chocolate company founded by two Frenchmen living in Vietnam. They have dedicated themselves to revitalizing cacao culture in Vietnam, which was nearly lost during the country's turbulent war years. Marou makes a number of bars, each meant to be representative of the terroir of a unique micro-climate within the southern region of Vietnam. The chocolatiers work with small farmers, who are painstakingly insuring that the cacao is of the highest quality through their careful practices, such as growing the cacao trees beneath taller, shade granting foliage.
The chocolate that Marou makes is challenging to many palates. It's certainly not a variety that sidles up to you with a lot of vanilla and added sweetness. As this post's title should indicate, Marou is chocolate for whiskey drinkers.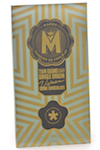 Need something to bring out the vanilla and honey in Booker's bourbon while smoothing out some of the heat associated with a 127 proof bourbon? Look no farther than the Marou Tien Giang 70%; its spice and fresh fruit notes will enliven the depth of flavor in this and other hot whiskies. Looking for something a little more balanced for a Scotch tasting? You'll find a perfect fit in the Marou Ben Tre 78%. Is it intense? Certainly, but it is also balanced. This is exactly what we ask of our whiskies: we like the intensity but we want it to be balanced artfully by a master.
Whether a master of malt or a master of chocolate did the balancing, I know what my palate likes, and these chocolates from Marou have me very, very excited.