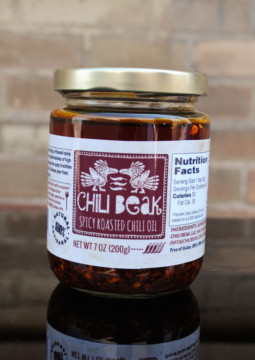 Our addiction to Chili Beak around Caputo's is palpable. We douse our eggs, salads, sauces, pizzas, and anything else we're currently consuming with the stuff.
To be honest, I'm not a fan of hot sauce, in general. But this is a game changer.
In the past, I've shied away from hot sauces because the overwhelming acidity overtakes the flavor of whatever it's added to. Chili Beak is a great way to add some heat and additional flavor, without sacrificing the integrity of your dish.
We're dedicating this week to Chili Beak, and we're starting off with breakfast—my favorite meal. Shakshuka is a Middle Eastern dish that's said to have originated in Tunisia. Eggs are poached in a tomato-based sauce often made with onions, peppers, and cumin, which is a perfect savory breakfast dish. It's also something I'm happy to eat for evening meals, as well. Shakshuka makes for a lovely centerpiece at the table, one that epitomizes family-style eating.
Serve Shakshuka with plenty of flatbread or veggies for dipping, and you have a fun, delicious meal. Added bonus: versatility. You can include potatoes, beans, or whatever you have on hand, and make this dish your very own. Of course, you'll want to have loads of extra Chili Beak as a final garnish and for extra heat.
Here's to the start of a great, delicious week. Cheers!
Chili Beak Shakshuka
Serves 4-6
4 tablespoons olive oil
4 Anaheim peppers, diced
1 small yellow onion, diced
1 teaspoon cumin
2 teaspoons smoked paprika
5 cloves garlic, chopped
1 28oz can crushed tomatoes
3 tablespoons Chili Beak, plus more for garnish and serving
8 eggs (we love using fresh eggs from Clifford Family Farm)
Warm pita, for serving
Freshly chopped parsley
Heat olive oil in a large skillet or cast iron pot over medium-high heat. Add peppers and onions, stirring occasionally, until browned, about 8 minutes. Stir in garlic, cumin, and paprika. When garlic has softened, add tomatoes, Chili Beak, and 1/2 – 1 cup of water. Reduce heat to low and simmer until thickened, stirring occasionally, about 20 minutes.
Crack eggs over tomato sauce and cover until whites are just set, about 5 minutes. Spoon sauce over egg whites and garnish with parsley and more Chili Beak. Serve immediately with pita and veggies.