I am among the vast number of people who look to Matt Caputo for inspiration when seeking out new, exciting food when life starts to taste a little dull. With the holidays drawing closer everyday, now is time for me to start poking my nose into all the decadent, delicious treats hiding in plain sight on the shelves here at Caputo's. I stock up now on things like cheese, chocolate, and confections to keep on hand for last minute host gifts, gift exchanges, and snacks to keep me going through decorating and gift wrapping.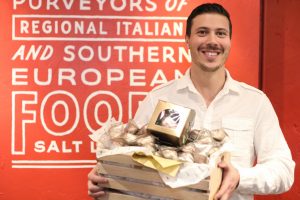 Like every time before, Matt's done it again and found a tiny company worthy of all praise and adoration. Friends, meet Scaldaferro Torrone. Torrone is an ancient old Italian confection from the time of the Roman empire made from honey, almonds, and egg whites. Scaldaferro takes this time honored confection to new heights with their commitment to using only the highest quality monofloral honeys, DOP and IGP protected nuts, and production methods that are almost outrageously particular. The result is a crunchy, ethereal treat perfect for sharing after large meals with your family.
Since no one can describe such a treat like Matt himself – here's his take on Scaldaferro:
"When an artisan makes nougat based on the waxing of the moon and explains it in such a way that makes sense, you should go out of your way to eat that nougat. Scaldaferro is the perfect nexus of heirloom ingredients and outlier in skill. No other nougat on Earth will taste like this. In my somewhat expansive nougat experience, it is the best out there. With our modern day food system continuously degrading what people are willing to pay for food, it is a treasure that will likely be lost to history some day. I am giving Scaldaferro as a gift, because it is a perfect example what Caputo's is trying to achieve. We fight to protect these traditional foods by sharing our passion for them with our friends, family, and customers."
My favorite? I have a hard time choosing between the Rose almond torrone made with Sicilian DOP Avola Almonds and rose honey OR the pistachio torrone made w/ DOP Bronte Pistachios from Sicily and coriander honey. Both are lovely and easy to buy together so I never have to choose. I'll keep these stashed away for gifts and shared treats, but I am pretty sure most of these will be kept hidden away for my own indulgence.
So, are you drooling yet? Dying to get your mitten-ed paws on these confections? You can get them here or at your nearest and dearest Caputo's location.