Since the late 1800's, Olasagasti has been preserving fine seafood with a process perfected over the course of more than 100 years. Olasagasti is a company born out of the merging of two beautiful cultures, a union that has lived on to bless us with elegant tins of full-flavored conservas. Made with centuries-old know-how, their secret ingredient is the Cantabrian Sea. Reaching across 500 miles of the Basque coast, its chilly waters provide expansive breeding grounds for bounteous seafood.
Salvatore Orlando was sent from his home of Sicily to the Cantabrian Coast, specifically Getaria, Gipuzkoa, in the late 1800's. He was the first to introduce long-standing Italian salting techniques to the Basque community. In Getaria, he fell in love and created a life with Simona Olasagasti, bearing six children and a handful of family business ventures. Conservas Olasagasti was created as an amalgamation of traditional Italian and Basque ingredients, recipes, and techniques that are packed each in tin or jar, with the utmost care. Today, the grandson of the Olasagasti pioneers runs the factory in Markina, Bizkaia, upholding the philosophies it was founded on.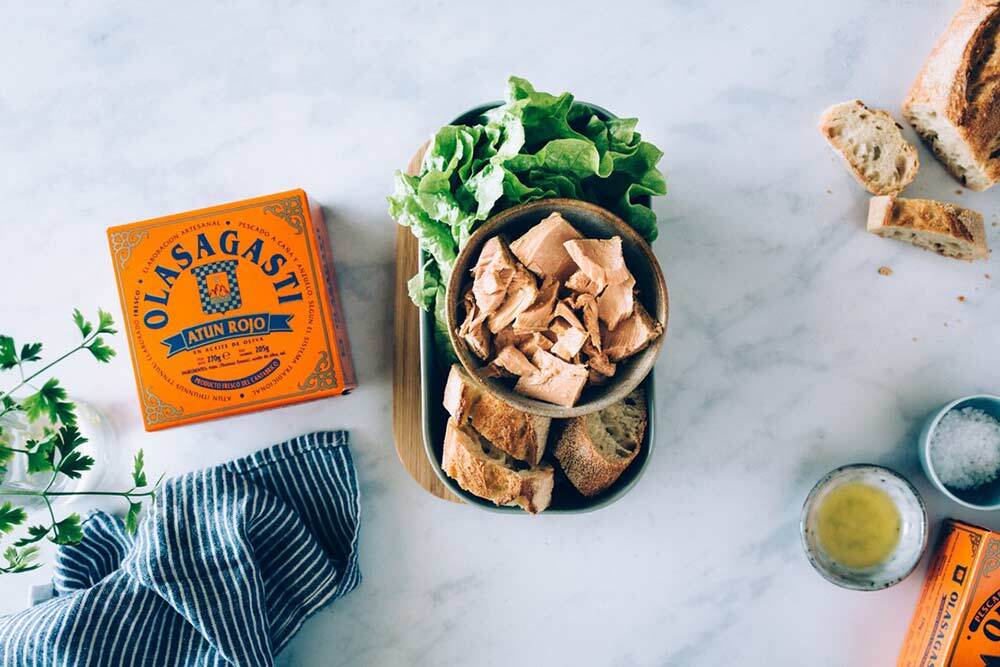 I began my Olasagsti tasting journey with a tin of the Yellowfin Tuna in EVOO, tastefully packaged in burgundy and gold. At first whiff, a brief moment of nostalgia washed over me. Noting its robust scent, I was reminded of enjoying tuna salad with my siblings as a young kid. I nibbled at the pale colored fish and the memories faded. This yellowfin tuna was nothing like the $.99 can of Chicken of the Sea I once loved. Fished on the high seas, Olasagasti refers to their yellowfin tuna as "the king of the pantry". It is mild, delicate, and packed with evenly distributed extra virgin olive oil between each flaky layer. After my first bite, I scooped the remaining contents of the tin atop a bowl of beans with a well seasoned broth and finished it with a dollop of crème fraiche for a delicious, nutritious meal.
Olasagasti takes the next step in highlighting their top quality tuna with a variety of meal-in-a-can offerings. These feature both Sicilian and Basque flavors that are meant to simplify and enhance mealtime in a hurry. Seeing as there is a sort of bean-renaissance in the food world today amid the pandemic, I was particularly excited to try the Tuna Fish Fillet a la Toscana, or Tuna Fillets with White Beans.  The simplicity of this tin is an obvious nod to Olasagasti's Italian roots, since Tuscan cuisine is known for a simple take on utilizing seasonal produce. Packed with carrots, celery, and white beans (a Tuscan favorite) that are perfectly prepared, this tin feels healthy, hearty, and straightforward. I heated it in the oven until the oil was bubbling, doused it in hot sauce (Espinaler, of course), and my belly thanked me. For a more filling meal, try putting it over some rice or cooked greens and finishing it with a little cracked pepper. It would also be a perfect compact meal to carry along on a camping or backpacking trip. Upgrade your mealtime anytime the need arises; this tin will certainly do the trick.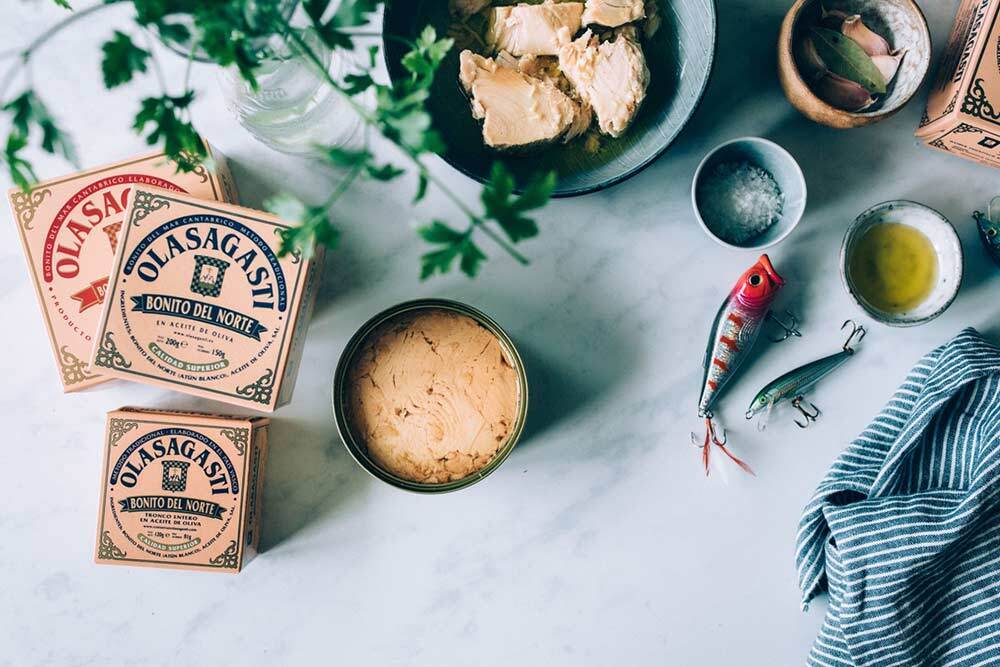 I was hooked on Olasagasti's composed meal tins after my first one and had to try the Tuna Fillets with Caramelized Onions next. Showcasing their Basque roots, this tin shares characteristics with a Basque dish called Bonito Encebollado, which is traditionally made up of caramelized onions, green peppers, garlic, wine, and bonito tuna. The beauty of this tin is that it takes all of the time and effort out of coaxing the deep, caramel-y flavors from the onions and we get to sit back and enjoy it with little to no effort. I warmed it in the oven for 10-15 minutes and dumped the contents atop a bowl of farro. Topped with basil and cracked pepper to counteract the sweet caramel flavors, the tuna added a light texture with subtle flavor. The farro's nutty qualities balanced out the intensity from the abundant onions. The most exciting part though, was how the onions, basil, and cracked pepper played together to create a spiced anise-like profile. It was an easy meal that excited my palate and I can't wait to further experiment with the deep flavors of this tin.
Last but not least, I was especially curious to try the Cantabrian Anchovy and Tuna Paté. There's just something I find so intriguing about creamy, spreadable seafood. Despite its small size of 110g, the jar holds 5 servings! I assumed my resolve to eat only one serving would fail and instead planned to eat it all in one go, even though Paté is known to be very rich. This fun-size sea paté was nothing short of what you'd expect from a paté, if not better. Comprised of mostly tuna, olive oil, and anchovies, I was delighted by its bright flavor and smooth consistency. The olive oil added a silky emulsion, while the anchovies contributed a briny, umami finish, melting beautifully into the open crumb of a baguette. I succeeded in not devouring the entire jar at once and managed to save some for an afternoon snack. I was pleased to revisit these flavors and to have another small jar to add to my collection thanks to this delicate, gourmet treat.
Unwavering in their commitment to preservation and quality, Matteo Orlando continues to celebrate his grandmother's surname more than a century later. Although separated by land and sea, the unique fusion of Basque and Sicilian cultures has allowed for Olasagasti to thrive with a unique perspective. Olasagasti said it best when sharing their philosophy, "In other words, just how your grandmother used to eat, with deep respect for what keeps us healthy and active, knowing that good food is good for the soul." Offering top quality seafood from the Cantabrian Sea that is carefully prepared, crossing cultural boundaries and exuding nothing less than perfection in each tin.