You're still not sure what to give, and you haven't started shopping yet? That's OK, we won't tell a soul. In an effort to inspire your food gifting, here's what some of your favorite faces from Caputo's are giving to their friends and family this year.
Don't see your favorite monger here? Drop by before the holiday—we're open through the afternoon of Christmas Eve—and ask them for their personal recommendations. We're certainly not lacking in opinions around here.
So, here you have it: each of our gift picks for 2020: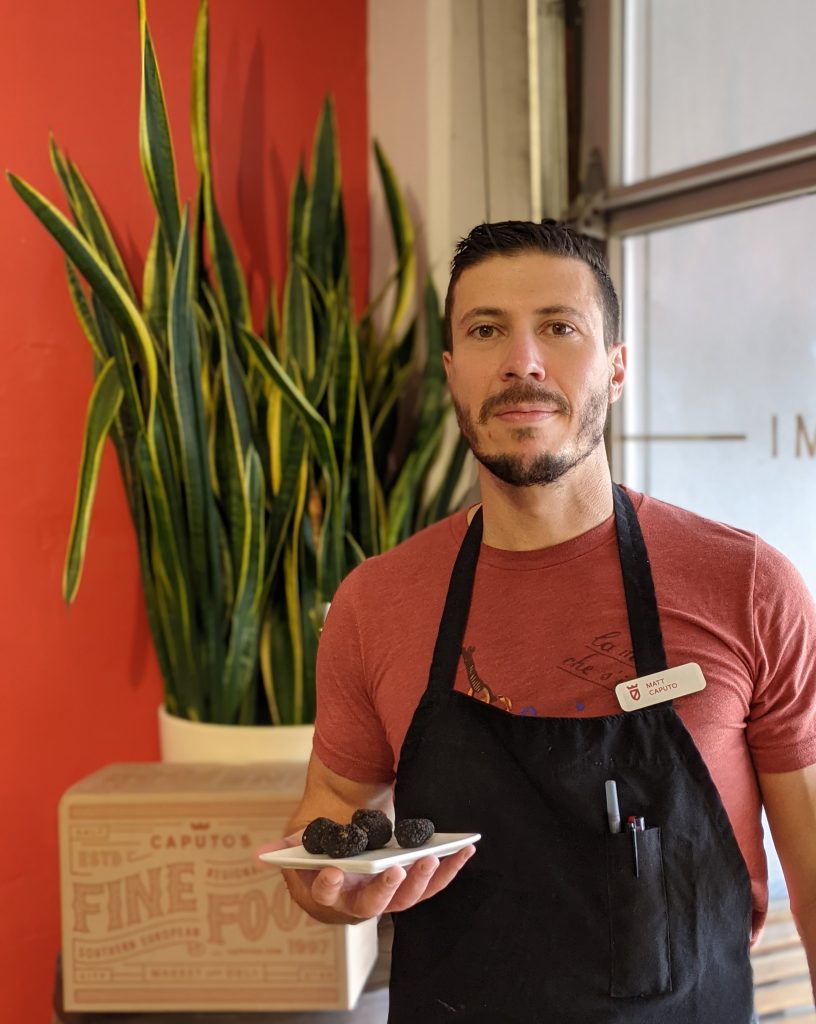 Matt Caputo
President and ultimate boss-man
Fresh Black Truffles – As the ultimate boss-man, Matt has chosen the ultimate foodie gift – fresh black truffles. (Pssst – they also look suspiciously like coal, which was what ultimate boss lady Yelena's suggested gift for Matt would be…).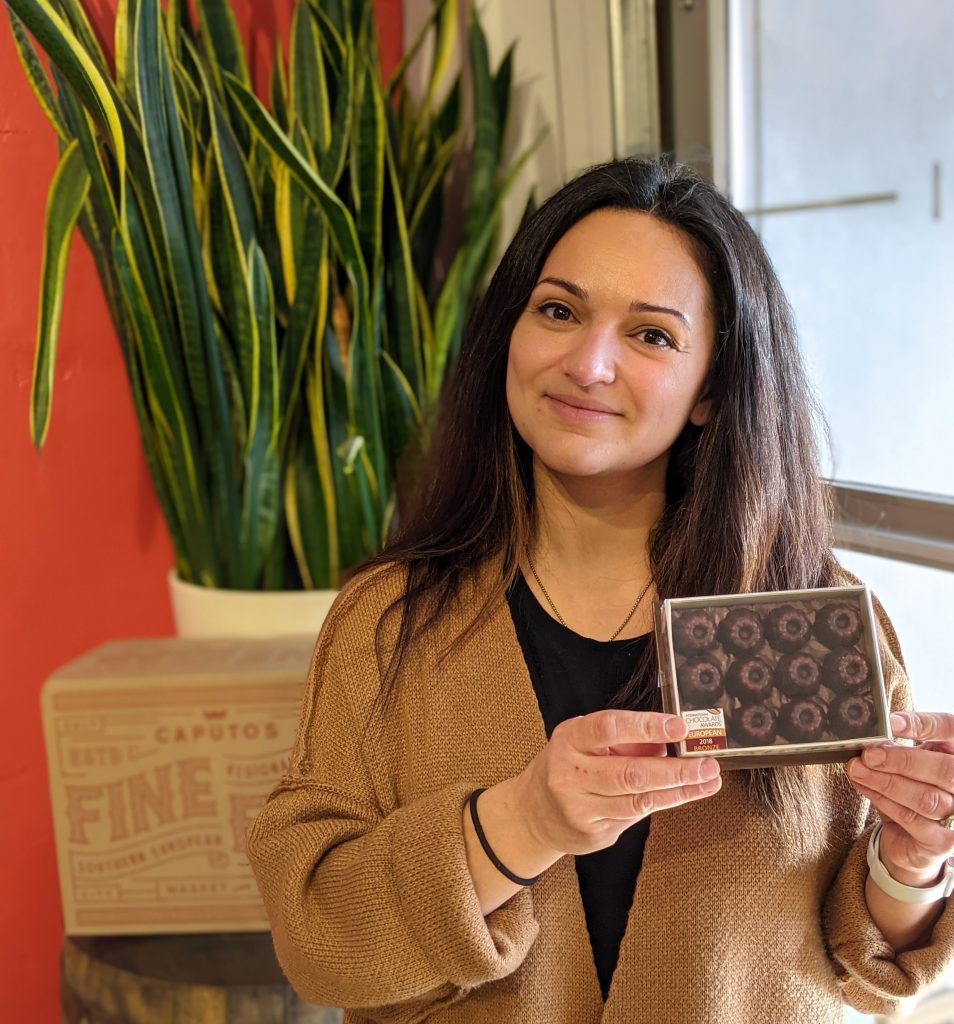 Yelena Caputo
Vice President, and ultimatest boss who oversees said boss-man
Chapon Canelas – Yelena is THE classiest lady we know. And her gifting choices are no different. This year, she's giving French chocolate wizard Chapon's exquisite Canelas – tiny French confections with nougatine and a dark chocolate shell.
Adri Pachelli
Senior Manager & Director of Education
Regalis White Sturgeon Caviar – We all know Adri does NOT mess around. So when Caputo's brought in caviar for the first time, she scooped up a 1 oz jar faster than you can say "fancy."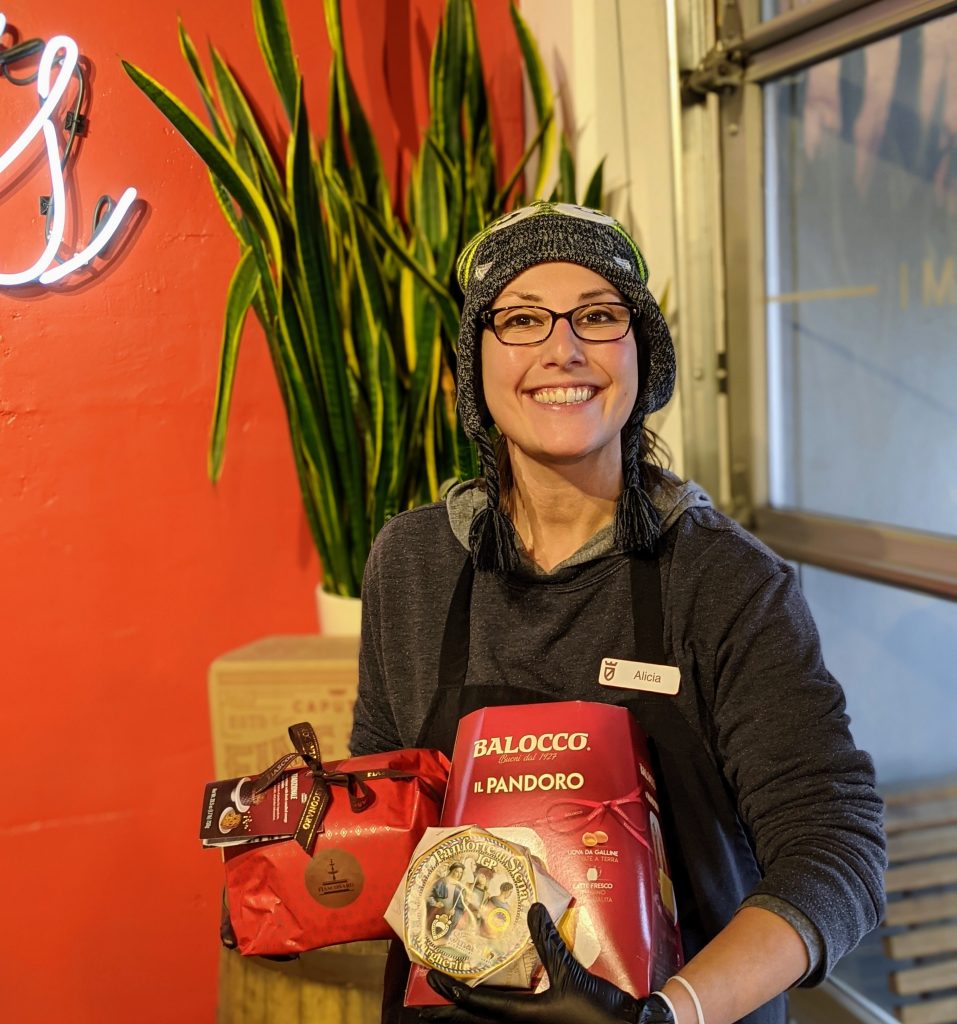 Alicia Konzen
Downtown Market Manager
Hot Off the PAN –  An Alicia original. If you've ever met Alicia, you'd know she loves a play on words! Her gifts are no different. She's giving all things "pan" – Panettone meets panforte meets pandoro! Tis the season, after all.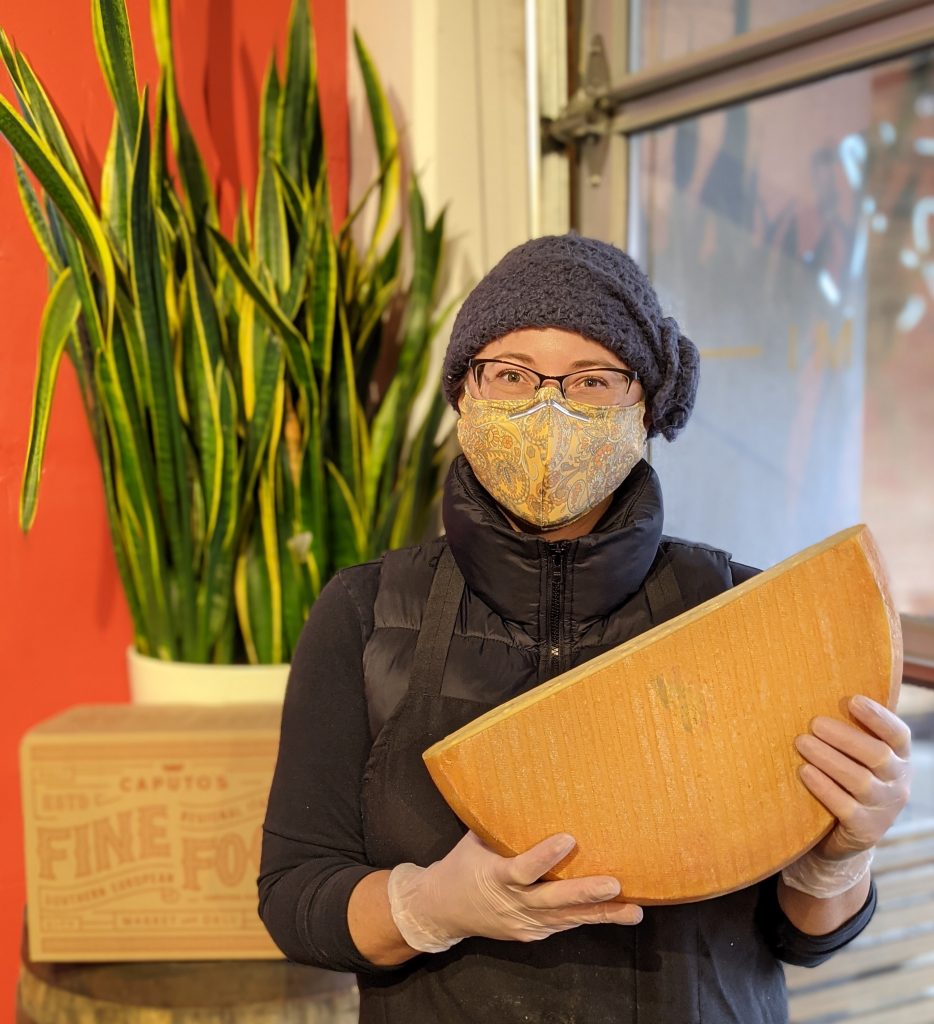 Antonia Horne
Affineuse AKA maker of all tasty things from our Cheese Caves
Half Wheel of Raclette – This Christmas, Antonia is sharing Raclette with friends and family. Since she can't give them actual hugs, she's giving "inside hugs," of the coziest, most comforting cheese she knows.
Jamey Chelius
15th & 15th General Manager
Patagonia Provisions Mussels Gift Pack – Our New Mexican native and fearless 15th leader knows a thing or two about serious flavor. Especially when it comes to conservas! Patagonia (yup, same company as the parkas and tents) triple threat of mussels is right up his alley.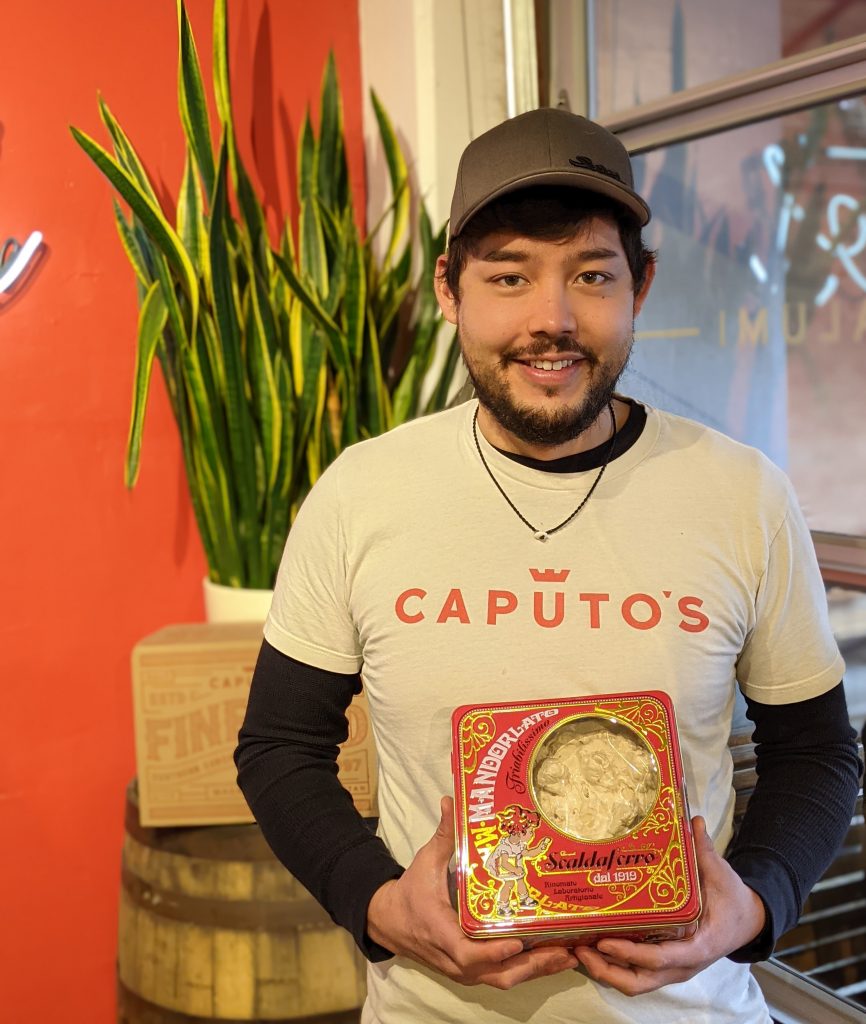 Austin Shimada
Holladay General Manager
Scaldaferro Crumbly Nougat Pie – In life there are precious few morsels that transport the consciousness to a different time and place. This is one of those morsels. When an artisan makes nougat based on the waning or the waxing of the moon and explains it in such a way that makes sense, Austin goes out of his way to eat – ahem, gift – that nougat.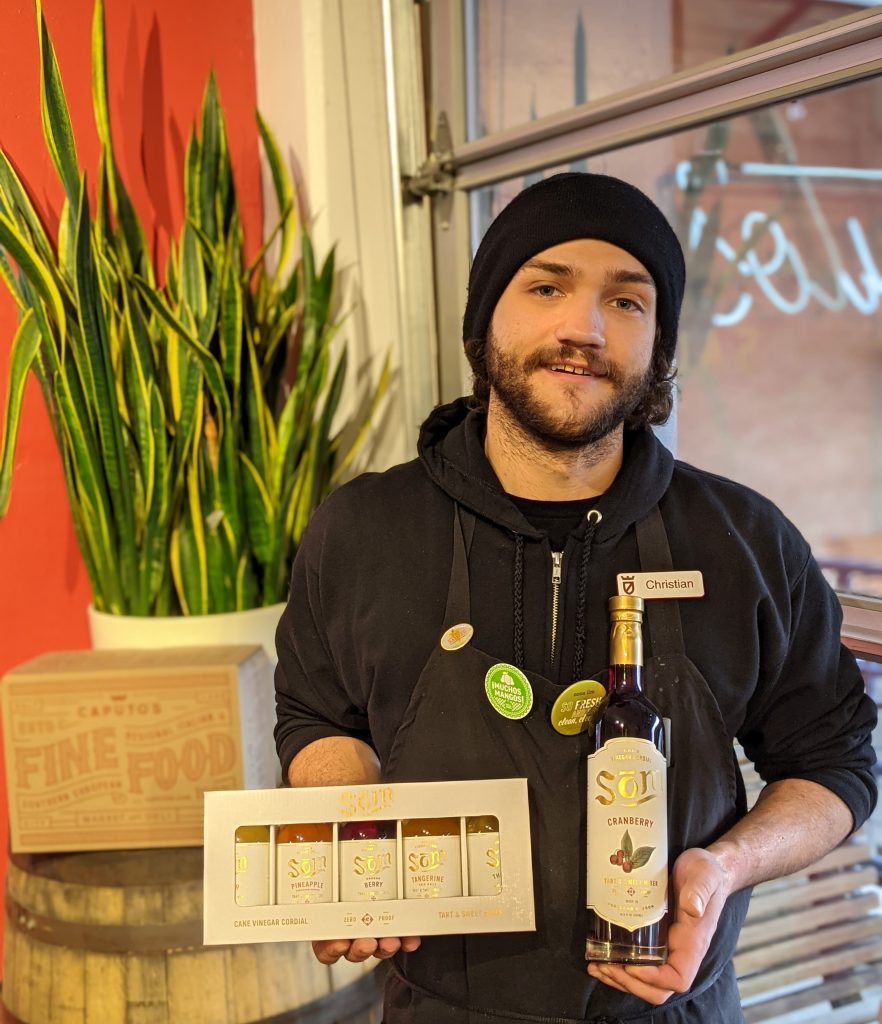 Christian Birch
Downtown Deli Manager
Som Cordial Gift Pack and Cranberry Som – Christian is the cheeriest guy in the deli! And he enjoys a cheery drink as much as anyone. Som's cordials make bev making easy (and delicious!) for both cocktail and mocktail drinkers alike.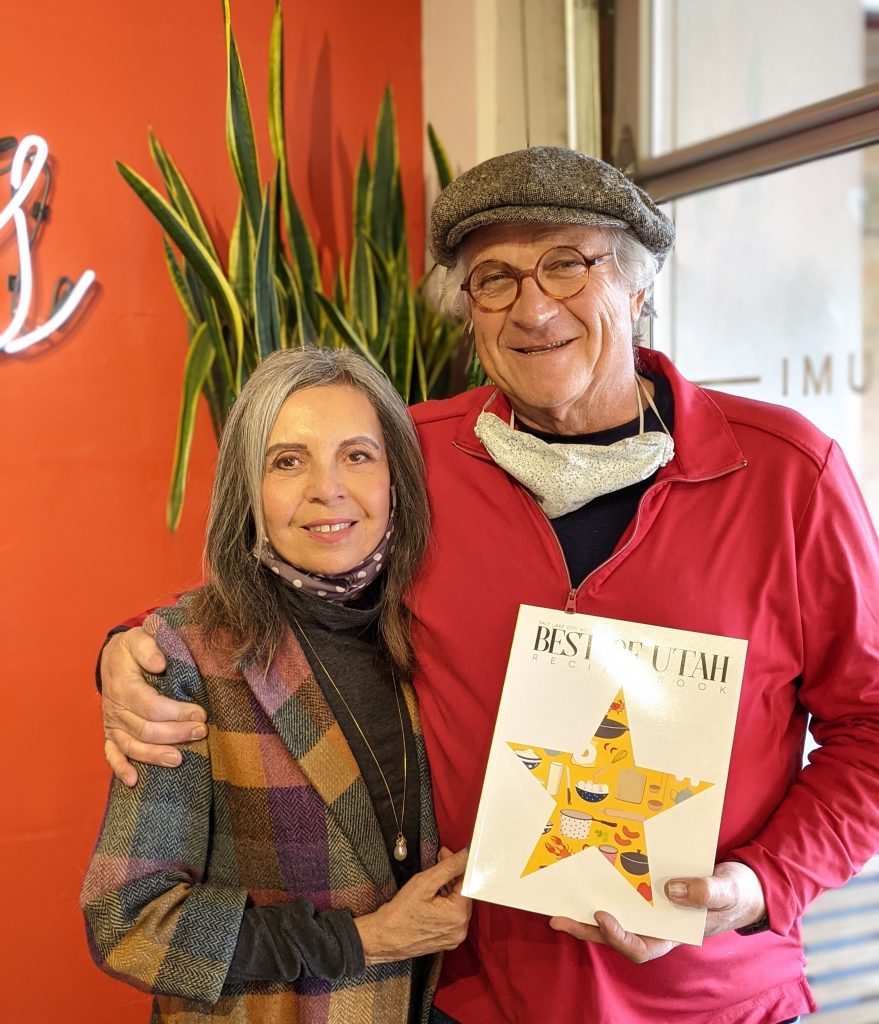 Tony and Mary Caputo
The OG himself and his fine lady
City Weekly's First Every Recipe Book – Tony and Mary are friends with everyone in the local food community! His gift, then, is no surprise. He's gifting the City Weekly's Recipe Book – a commemorative compilation of recipes from top Utah eateries and distilleries. But wait – there's more than just cooking how to's – the proceeds benefit the Galena Fund (support for local journalism) and the Tip Your Server Campaign (support for local displaced waitstaff in the Hospitality industry).
Heather Aagard
Social Media Maven and Merchandising Coordinator
Omnom GIANT Sea Salted Almonds bar – Heather is known for her enthusiasm – for all things cheese, chocolate, and, well, really anything in our markets! And when full 8 oz GIANT Omnom Chocolate bars landed from Iceland, you could hear her squeal for miles.