Pasta. It's one of the most generic terms used to refer to an expansive, regionally specific, and centuries' long part of regional Italian food culture. That said, even the most ambiguous of terms is enough to elicit sighs of fondness for one of our favorite starches. From early childhood to poor college life and beyond into adulthood, pasta is one food we all enjoy. In theory, it's relatively quick and easy to make, inexpensive, and I can't think of one single person who doesn't enjoy it. That said, there are just a few tips to be aware of when buying and preparing that will enhance both flavor and texture and, ultimately, just make life more delicious. Yes, there is a right way to make pasta and a wrong way. The right way will make your meal memorable and satisfying, the wrong way is akin to mortal kitchen sin, at least for us. The next time you find yourself craving a plate of pasta, keep these in mind:
Fresh isn't best – seek out pasta extruded from bronze dies
There's a strange myth going around that fresh pasta far exceeds air dried. Not so, dear friends. The vast majority of regions in Italy prefer air dried. Unless you're making something usually made by hand rather than extruded through a machine like cavatelli or a filled pasta, chances are, a quality air dried pasta will better suit your needs (and desires). There are two materials used most often to extrude some of our favorite shapes of pasta: bronze and Teflon. While Teflon is more efficient and easier, the resulting pasta is slippery and lifeless. While this may be ideal for kindergarten slurping, that slipperiness also leaves behind whichever amazing sauce you're about to make.
Bronze dies are the stuff of both historical and present day artisans, and for good reason. When artisan pasta makers use a bronze die to extrude their pasta (family-run Martelli in Lari, Italy, for example), the end result is well worth the extra time. On a microscopic level, bronze dies extrude a pasta that is rougher with far more surface area for sauce to cling to. These days, when bronze dies are used, artisans are often using higher quality durum semolina that will offer a toothsome bite, a lovely wheat flavor, and an all around better, tastier end product.
Use a big pot, lots of water, and liberal salt
Of all the pasta sins that exist, I beg you to use your biggest pot rather than attempt to minimize your dish load. A large, roomy pot of boiling water gives each cut room to absorb the necessary amount of water at an even rate and will prevent noodles from sticking together. Salted water helps season the main component of your meal without over-seasoning and using too much salt in the finished product AND it aids in even cooking.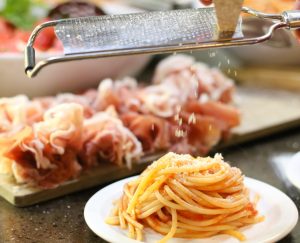 For the love of pasta – No. Oil. 
There's no faster way to hurt our feelings than to add oil to your pasta water. Adding oil to your water will indeed help keep noodles separated, but it will also ensure your sauce won't have any way to cling and adhere to your noodle. Added oil would make cooking uneven and coat the pasta in a film, causing every possible drop of sauce to slip away between your plate and mouth. Don't want your noodles to stick together? Here's how to avoid it – use that giant pot in your pantry (I know you've got one), fight the urge to add oil, and don't rinse with cold water (see below).
Pay close attention & don't rinse
While it likely goes without saying, pasta should not be ignored while cooking. In those last minutes of time in boiling water, consider yourself married to that pot of cooking pasta. That fine line between true al dente and bloated, overcooked pasta is impossible to recover from. We cook pasta to al dente so it can continue to cook and finish cooking while being tossed with sauce. Pull your pasta from the water at a place when it is almost done, but feels like it could use another few minutes to be completely cooked through. It will finish cooking in the time it takes to toss with sauce, plate, and serve.
Don't stop these final moments of cooking with a rinse in cold water. The rinse will result in underdone pasta that is bound to be stuck in your molars for hours after your meal and seized starch that won't hold a sauce as well as a hot noodle. Instead, remove your pasta to a colander if needed, or right into a sauce pan with sauce.
Pasta water is your best friend
I prefer to remove my pasta directly into a sauce pan with my chosen sauce. I can finish cooking, bind the flavors of both noodle and sauce, and I have the absolute powerhouse secret ingredient at my disposal – pasta water. As the pasta finishes cooking in the sauce, it will likely suck up all the delicious liquid matter in your sauce. Rather than panic, simply add a half cup or so of pasta water to the pan. Your pasta water is full of starch leeched out while cooking your noodles and will help create a glossy, silky sauce that perfectly compliments and commingles with your pasta. It's magic, I tell you.
Prepare a sauce intended for your shape of choice, and don't overdo it.
One of my kitchen heroes is Marcella Hazan. If you're not familiar with her, think of her as the Julia Child for Italian cooking in the United States. Marcella's first cookbook, The Essentials of Classic Italian Cooking, introduced American cooks to a lesson all Italians grew up with – your sauce is determined by your pasta shape. Italians don't match sauce to pasta willy nilly. Each shape is created to marry with one or two particular sauces. Think bucatini and amatriciana, pappardelle and bolognese, spaghetti alla vongole; these weren't paired together on accident. You can, of course, not follow these traditions, but a true match makes for a truly transcendent meal.
Don't forget: the sauce exists to compliment the pasta, not the other way around. We don't want noodles swimming in a bowl of sauce. Rather, we want a bowl of pasta kissed by a sauce that allows the pasta to shine. Remember, when a high quality pasta is used, it will be the star.
Pasta waits for no one 
When it's ready, it's ready. Don't waste any time between tossing with sauce and eating, or you run the risk of over-cooked pasta at an unpleasantly tepid temperature. Start eating as quickly as you can and enjoy every moment. This is no time for manners, it's dinnertime.