As a well-known and widely loved clothing and gear company, it's both surprising and unexpected to see the Patagonia brand name printed on a box of tinned seafood. How do they connect? Is it the same Patagonia? Those were my thoughts when I first saw these packages on our shelves.  Patagonia Provisions, a recently added division of a B corporation that has been around since the 70's, has expanded into selling food items, specifically tinned seafood—which we should all be so excited for!
There's a lot of talk today of the fragile state of our environment. A lot of that fragility comes from a disconnect between humans and our treatment of the earth as we try to provide for the population and simultaneously grow our economies. Patagonia Provisions started as an effort to try and fix our broken chain, as noted by Yvon Chouinard, CEO and founder of Patagonia. He saw the distance that was being put between people and their food, as well as a loss of respect for the earth, the creatures that inhabit it, and the value of knowing where your food comes from. For example, did you know that mussels are actually one of the most sustainable food sources in the world? By eating mussels, we are actually helping more mussels grow, as written by Paul Greenberg on why mussels might save the planet. Patagonia was originally started as an effort to change the world, but the necessity of buying a winter jacket or sturdy piece of clothing comes around only a handful of times throughout adult life. On the other hand, food is something we interact with multiple times a day, so why not affect the same change from another different, but necessary angle?
Patagonia Provisions is a certified B Corporation, gives 1% of all profits back to the planet just as the clothing brand does, and as of 2017, is also part of the Regenerative Organic Alliance, ensuring fairness to farmers and workers, with strict requirements for farming practices. There's no shortage of transparency in any effort Patagonia makes—especially with their tinned fish. There is an abundance of information on the package alone, as well as even a little picture of what the contents inside of the tin look like and it's wholly enticing. You can unfold the box and find notes on the nutrition, flavor, sourcing, and the environmental impact of each tin you enjoy.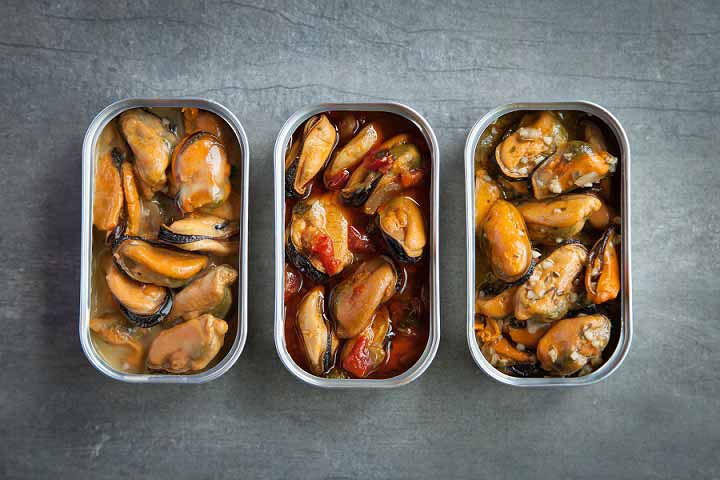 Now that we have warmed our hearts, let's fill our bellies and talk taste, shall we?
A while back, during conservas week here at Caputo's, I was encouraged to try Patagonia's Smoked Mussels. Despite my reluctance towards smoked foods I found myself quite pleased with the flavor. There are a lot of them packed in the tin, are lightly smoky, and a little sweet. Sourced off the Galician coast of Spain, where mussels are native to the region, these are smoked naturally over Spanish bay wood and packed in organic olive oil and their own broth. Most recently, a friend suggested I revisit them, but warm the tin in the oven for about 15 minutes before eating with a little bread… I enjoyed them this way for a quick, casual lunch and finished with the satisfaction of having a fully prepared meal. The flavors and fatty components were transformed to change the overall experience in the best way possible, both in flavor and texture.
I enjoyed the Savory Sofrito Mussels next. Sofrito is essentially a traditional Spanish sauce made with onion, garlic, peppers and tomatoes; however, there's a variety of ways it can be made. This mixture includes bell peppers, onion, sherry wine, spinach, and Spanish paprika. The sauce is incredibly savory, and has borderline tomato-y characteristics without any actually added. I tasted them and instantly felt a familiarity in the flavor…I couldn't quite figure out what it was. I ended up having the mussels, sauce and all, over a little rice with some roasted carrots and onions, and it clicked! The combination of flavors made me reminiscent of a Spanish style Bolognese. This was not your long Sunday afternoon dinner, we're talking 20-30 minutes, and a $7 tin of mussels, with more protein, Omega 3's, and vitamin B-12 than any Bolognese you'll find.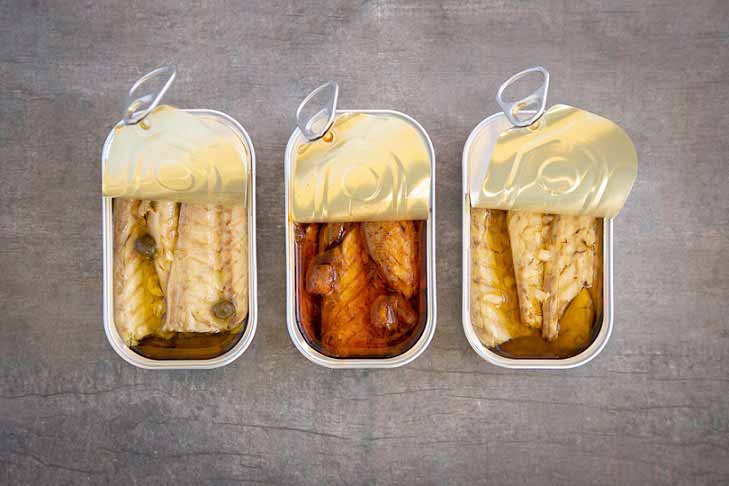 Another tin I found myself favoring was the Spanish Paprika Mackerel. With similarly rich, meaty qualities of other fish such as salmon or tuna, smothered in a vibrant red oily sauce, these mackerel are approachable in flavor and texture. I dreamed of using a tin in the future to make some mackerel cakes…maybe a little egg, breadcrumbs, peppers, onions, and paprika mackerel blended together and pan-fried? Sounds like a perfect party snack to me. However, without the ability to do anything extensive, I ended up using the last half of the tin over a salad. Being such ample fillets, a fish like mackerel needs a bit of a stronger mix of salad ingredients that won't easily be overpowered. I could recommend some chopped kale that's been massaged with a creamy dressing as a simple restaurant-worthy salad, however I opted for a mix of romaine and spinach, complimented with some finely chopped carrots, onions, and peppers, topped with a little bit of Dodoni feta, to add an extra bit of tang. I could go on all day about the fun ways to enjoy any tinned seafood, so get creative, eat it alone, or try both!
I know it may seem a bit odd for a company that has been making jackets and gear for so long to expand to food, but what better way to reach people than through our nourishment? Food helps us connect with not only one another but with the planet so let's be thoughtful about it. You can have confidence in enjoying a tin of Patagonia Provisions tinned seafood knowing it's sustainably sourced, responsibly produced, and thoroughly delicious. So let's change the world, one tin at a time.