Mother's Day comes around at my favorite time of year. The best blooms are popping up in pretty bouquets, fresh, crisp flavors are back on the table with a vibrant green background, and everything is pastel, pretty, and delicate. In the spirit of pretty and delicate, I wanted to combine my favorite floral flavors with one of my favorite desserts. Strawberry shortcakes have some serious curb appeal, can come together in moments when the components are made in advance, and WHO SAYS NO TO SHORTCAKE?! (Answer: no one)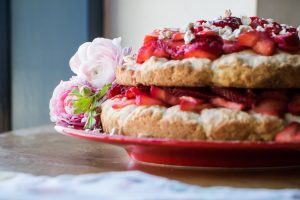 The one downfall of a classic strawberry shortcake has always been texture and complexity. While there is something truly lovely about the soft, pillowy shortcake and sweetened strawberries, we (and Mom) deserve more. More crunch, more flavor, more fun.
Scaldaferro sent a new exciting torrone to us from their home near Venice. Rose nougat is peppered with crunchy almonds and was a welcome crunch to the Spring season. When crushed, the crunchy morsels offered both extra floral flavor and perfect textural juxtaposition to my adored shortcake. To really highlight the floral notes of the torrone, I macerated the sliced strawberries with sugar and rosewater, and I could not be more pleased with the results.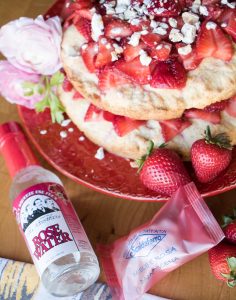 Here, you'll find a recipe based on James Beard's beloved approach that uses no sweetened whipped cream, only fresh cream poured atop your cake just before serving. Make your cakes and macerate your berries the day before you Mother's Day brunch for an effortless and gorgeous treat to end your meal.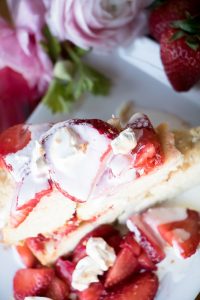 Rosewater Strawberry Shortcake
Serves 8-12
Shortcake
• 4 cups all-purpose flour
• 6 tablespoons sugar
• 1 tablespoon plus 2 teaspoons baking powder
• 2 teaspoons salt
• 12 tablespoons cold, unsalted butter, cut into small pieces
• 1 ½ cups heavy cream
• 2 tablespoons unsalted butter, melted and cooled
Strawberries
• 2 quarts fresh, ripe strawberries, washed and hulled
• 1 tablespoon sugar
• 1 tablespoon rosewater
For Serving
• 1 pint heavy cream
• 3 Scaldaferro Rose torrone pieces (plus many more for gifting)
Preheat oven to 425 degrees. Sift dry ingredients in a large bowl or food processor. Add cold butter and mix until the mixture resembles coarse meal. Add cream and mix thoroughly until a soft dough is formed. Divide into two pieces- one slightly larger than the other. Press the large piece in a 9 inch pan, press the second piece in an 8 inch pan. Brush each with melted butter and bake for about 15 minutes or until firm and just becoming golden brown.
Set aside the most attractive strawberries for garnish. Coarsely chop the remaining strawberries and stir in sugar and rosewater. Allow the strawberries to macerate for at least 15 minutes.
Place the larger shortcake on a platter, then spread with 2/3 of the chopped strawberries. Slide the second layer of cake on top and garnish with remaining macerated strawberries and garnish with whole strawberries. Crush the torrone with a mallet or French rolling pin (this is cleanest when done in their plastic packaging) and sprinkle over the strawberries. Cut into wedges and serve with cream poured over each serving.