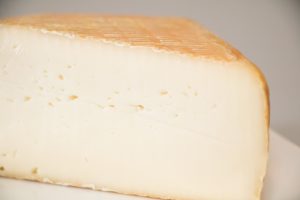 Taleggio is many things. It is the second most popular cheese in Italy behind the reigning king, Parmigiano Reggiano, it is one of our stinkier selections (making it less popular here in the states), it is one of the darlings of Cheese Cave II, and it is now the beneficiary of a local beer wash.
What was once an already delicious, funky, creamy cheese now also has an even funkier, more savory, and more 'Utah'version. Both our cave aged Taleggio and our cave aged Double Skull Taleggio ebb and flow in ripeness and availability based on the whims of both our mongers, local chefs, and your fellow stinky cheese lovers. This has given me the opportunity to cook with both and investigate the best uses for each. The original I find to be the most suitable for cold dishes and entrees with milder ingredients. Think of a raddicchio and pear salad with cubes of Taleggio and a lemon/mustard vinaigrette OR Taleggio spiked polenta with browned butter sauce.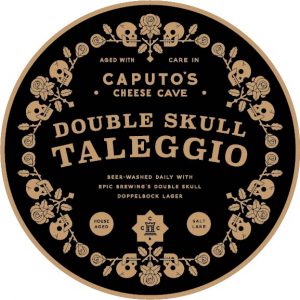 The Double Skull iteration loves to beef up dishes with more complexity and serve as the centerpiece for a cheese and salumi board for myself and my most enthusiastic cheese fiend friends. The complexity that develops in the cave after many a beer wash make it exemplary nestled with assorted cured meats, olives, and other cheeses. My favorite use, however, is this dish.
As the cold evenings become more frequent, I crave the comforts of risotto. There really is nothing like the pillowy cloud of starchy happiness created by rice, stock, and time. A saute of mushrooms atop a taleggio riddled risotto is both full of comfort, but also full of big, fun flavors that play well with each other while stepping back just enough to also appreciate the lovely creamy, starchy texture and subtle bite of each grain. While stinky and sometimes menacing in its original state of being a cheese wedge, both Taleggios melt down into a more mellow version when used in a recipe. The texture becomes even more silky and the flavor mellows to a slightly milder, much more approachable version. It invites you in with the lightest whiff of earthiness and keeps you coming back for its sweet paste and creamy mouthfeel.
Enough of me, let's talk about you. This is the kind of recipe you could whip up on a weeknight (say, before a stroll around the neighborhood hunting for tiny morsels of candy) for a small dose of a comfort and a large dose of sustenance. This is also the kind of recipe you could stow away and save to impress company. The idea that risotto is both a toiling all day exertion of energy and a royal pain in the butt to make is completely false. Just take a look below.
Double Skull Taleggio Risotto
Serves 4
4 cups chicken or veggie broth
3 tablespoons unsalted butter
2 tablespoons olive oil
1/2 cup onion or shallot, chopped finely
2 cups risotto rice
1/2 cup Double Skull lager or white wine
1 pound Double Skull Taleggio cheese
Salt
In a medium saucepan, bring the broth to a very slow, steady simmer on a burner nearest to where you'll be cooking the risotto.
Put 1 tablespoon of butter, the olive oil, and the chopped onion in a broad, sturdy pot, and turn on the heat to medium high. Cook and stir the onion until it becomes translucent, then add the rice. Stir quickly and thoroughly until the grains are coated well.
Add the lager or wine to the rice, stir and allow it to evaporate. (Note: you can skip this step and proceed immediately to stock if you prefer to not cook with alcohol, though all of it will cook off) Add ½ cup of simmering broth and cook the rice, stirring constantly with a long wooden spoon, wiping the sides and bottom of the pot clean as you stir, until all the liquid is gone. You must never stop stirring and you must be sure to wipe the bottom of the pot completely clean frequently, or the rice will stick to it.When there is no more liquid in the pot, add another ½ cup, continuing always to stir in the manner described above. Maintain heat at a lively pace.
Begin to taste the rice after 20 minutes of cooking. It is done when it is tender, but firm to the bite. As it approaches that stage, gradually reduce the amount of liquid you add, so that when it is fully cooked, it is slightly moist, but not runny. When the rice is about 1 or 2 minutes away from being fully cooked, add all the Taleggio and the remaining butter. Stir constantly to melt the cheese and wrap it around the grains. Off heat, taste and correct for salt, stirring after adding salt. Serve promptly.
If you wish, serve along with sauteed mushrooms. Here, I sauteed them quickly in a pan with olive oil, 1 tablespoon minced shallot, 1 clove smashed garlic, and a teaspoon of thyme. You won't regret it.