"Ask Matt Caputo" is an ongoing feature where Matt answers commonly asked questions from the market. This week, he reviews the history of one of our favorite chocolate confections and flavor combinations of chocolate and hazelnut – gianduja.
Q: 
The gianduja and cremino confections from Guido Gobino are DELICIOUS. Your Evolution of Cacao class says this item is a product of war?! How did these little treasures come to be?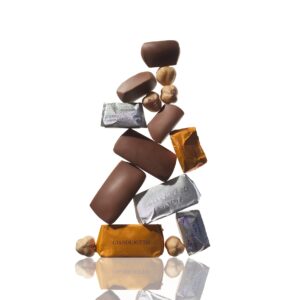 A:
It's true – they are a product of war! When Napoleon blockaded the Atlantic, Italy was one of the world's leading producers of dark chocolate. However, Napoleon's blockade cut off the supply of cacao and began an era of French domination that lasted over 170 years. Amedei, Domori (and a handful of others) and the American Craft Chocolate movement only broke the French strangle hold in the late 1990s and early 2000s.
But I digress. The key is all of these Italian chocolate makers basically went belly up and the country's national chocolate-making dominance ended. Many of the Italian chocolate companies that survived were those in Torino. A handful found that by mixing what little cacao they had left with ample amounts of roasted hazelnuts and milk solids, they could make their supply go further. At the time, they used local hazelnuts that were so plentiful, they littered the ground. They had no idea those hazelnuts would one day be prized all over the world for being the very best, fetching up to $40 lb. You know them as the Nocciola Tonda Gentile della Langhe, bearing the IGP protection from the EU.
Thus, Gianduja was born out of dire need and desperation. To this day, it is still BY FAR the most popular chocolate confection in all of Italy. It's sad people hardly know it here. To settle on Gobino, we blind taste-tested all the top reputable brands and found Gobino to be the best.
PSST! Want to know more? Join us at an Intro to Fine Chocolate class or dive even deeper at Matt's Evolution of Cacao class!
Disclaimer: While Matt Caputo is a Certified Cheese Professional and specialty food fanatic, he is not a medical professional, doctor, or certified nutritionist. Please consult with your doctor or other qualified health care professional before making any healthcare decisions, diagnostics or treatment decisions based on Matt's answers.