Conservas de Cambados is both a factory and a label living at the intersection of artisanal quality and culinary tradition. Their iconic packaging, inspired by the seafood nets that dot the Galician coastline, is a visual reminder of the history and care that for decades has made this brand the benchmark for gourmet conserva in Spain.
In this article, I'll unpack their history, discuss what makes their approach to tinned seafood special, and leave you with an original recipe for linguine and clams made with preserved Tunisian lemon and Calabrian chilis.
Nearly four decades ago, mussel wholesaler José Luis Alfonso set out to create a premium gourmet conserva company whose products could showcase the unrivaled splendor of the Galician seafood he grew up eating.
Founding Conservas de Cambados in 1985, his factory focused on sourcing the best raw material possible and treating it with love, care, and intention during every step of the canning process.
And when it came to finding that raw material, he knew he needn't look further than the nearby Ría de Arousa. As the largest estuary in all of Galicia, for generations its nutrient rich waters and sandy coastlines have created a natural ecosystem for clams as well as the perfect open-water nursery for mussel farming where meterslong ropes of meaty mollusks grow on floating rafts called "Bateas".
Today, the company is safely and creatively helmed by José's children Maite and Keko who respectively head up quality control and company direction. What's new is an increasing stock of fishes and seafood sourced from other parts of Spain. What hasn't changed is their emphasis on small-batch, artisanal processing. Hauls of scallop and octopus, eels and uni are purchased during peak freshness and processed by the hands of the 50, mostly female artisans who make magic happen in a small factory in José's hometown of Pontevedra.
Opening my box from Caputo's revealed a trove of eight varieties from this legendary brand. The level of care and quality of the packaging itself is immediately apparent. Each tin arrives to you in a hand-fastened cotton net, boasting bold hues of burgundy, black, navy, and forest green. Conservas de Cambados invented this style of packaging in 1989 and its been an indicator of their excellence ever since. Atop that netting sit premium labels embossed with gold foil that beg you to pick them up and feel them with your hands. The entire experience, outside to in, is textural and inviting. What I'm saying is: the packaging talks a mighty big game. And boy does it deliver.
The Small Sardines in Olive Oil, hauled from the waters off the north of Spain are hand-selected for quality and packed with care in their very same Galician facility. These gourmet swimmers need absolutely no dressing up and would be wasted in any dish where they weren't showcased front and center. They'll shine brightest as the headlining act for your next cheeseboard. Pro-tip: always present the tin wrapped when guests arrive and unveil its contents when it's time to eat.
Next, I opened a tin I've been dreaming of for some years now: the Barnacles in Brine. Known as "Percebes" in Spain, gooseneck barnacles are one of those rare delicacies you have to see and taste to believe. Resembling the claw of some long-extinct prehistoric reptile, these flavor bombs cannot be farmed on bateas like their mussel cousins. Instead, they must be hand-harvested in a death-defying dance from the rocky, surge-slapped cliffs on which they grow with little more than a rope and bucket. It's a risk worth taking to bring these truly unique mollusks to plate and tin. All to taste their heavenly, coral-colored meat which resembles a mix of clams and escargot. They're perfect for dunking in an herby aioli or dousing in clarified butter with a dash of lemon.
The Medium-Sized Cockles in Brine, grown in Ría de Arousa (and featured in my recipe below), are packed with care and precision, each clam sitting upright and arranged in a bricked fashion (both to maximize the number per tin and enhance the gourmet experience even more). Before they even hit the can, they are cleaned by hand and examined to ensure not even a single grain of sand makes it into the brilliant bath of clam juice that these babies arrive in. If you've never had cockles, these are the cockles to try. They are sweet and tender and buttery smooth. And as perfect for popping pintxos as they are for folding into any recipe that calls for clams, like my take on the Italian classic Linguine Alle Vongole, which follows next:
Linguine and Clams is one of my all-time favorite meals to make at home. While it traditionally calls for fresh manila or littleneck clams, not all of us live in place where those are easily sourced. That's why, for years now, I've made mine with tinned cockles in brine. Undeniably easier and faster, I would also argue that due to the addition of that clammy brine they are packed in, this version of the dish is, dare I say, even more delicious. Today, I've taken my recipe one step further by creating it with almost exclusively pantry-friendly items sold by Caputo's so you can make it at a moment's notice, whenever those cravings arise.
1. Get a large pot of salted pasta water going over high heat. Meanwhile, place a large stainless steel or non-stick skillet over medium heat. Add the olive oil, garlic and shallot and turn heat down to medium low, stirring until it becomes translucent and soft, being careful not to burn them. Add a pinch of salt.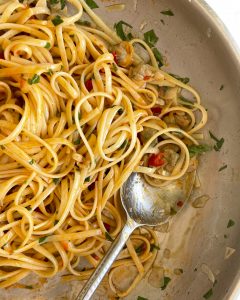 2. Add pasta to boiling water and cook until al dente or just shy (it will cook a little more in the pan). While pasta boils, Add the white wine to the skillet and deglaze, bringing to medium heat until it reaches a simmer.
3. Once it has reduced by at least a quarter, open the cockles and ogle their beauty. Using the tin lid as a strainer, carefully pour the brine (without the clams) into the skillet. Stir until it begins to simmer, being careful not to scorch it. Stir in the white pepper. Stir occasionally while it reduces, about 2 minutes.
4. Add a ladle of the pasta water and turn heat to medium high. Stir consistently until a glossy sauce begins to form.
5. Once the pasta is cooked, add it all to the skillet (on low) along with the preserved lemon. Stir vigorously until the sauce is glossy and the pasta is well coated. If the sauce is too tight, add more pasta water.
6. Turn the pan off and add the cockles, butter and parsley, tossing until melted and combined. Finally, drizzle on the chopped calabrian chili followed by a couple pinches of flaky sea salt.
7. Serve the skillet family style or plate with more chopped chilis to your liking.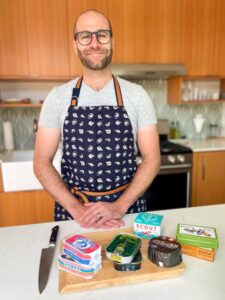 Harrison Weinfeld aka The Sardinfluencer is a writer, a cook, and a tinned-fish fanatic who's on a mission to bring sustainably-harvested and responsibly-farmed conserva into home kitchens around the world.