In anticipation of Caputo's Cheese Caves Week, I was tasked with preparing a "cheese cocktail," which in modern food-speak usually refers to pairing cheeses with cocktails, or more specifically, garnishing a cocktail with cheese. More on both below!
As I marinated on the task at hand, I couldn't help but think of how to marry two of my favorite categories: cheese and booze. Though possibly strange sounding at first, dairy and alcohol are no strangers. I thoroughly enjoyed my White Russians in the early 2000s. Or was it the late 1990s? Sshhh….
One of my all time favorite food pairings is Ossau Iraty Reserve sheep's milk cheese from the Basque region of France along with plump Luxardo Maraschino cherries. PLEASE give this a try if you haven't already. A guaranteed good time. Since cherries are synonymous with boozy cocktails, I decided to riff on classic cocktails to usher in the matrimony of sweet and savory.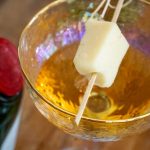 In my unconventional and cheesy take on the Sazerac or the equally applicable Vieux Carré, another classic cocktail of New Orleans fame, I decided to use the herbaceous Benedictine liqueur from France as my sweeting agent. It was in this exact moment that I chose to heat the alcohol and use it as my medium for the cheese. I combined the sweet liqueur with the cheese over medium low heat and melted the two into a gooey and very fragrant syrup. The vapors of this consummate concoction were intoxicating and filled the house with a perfume reminiscent of fall baking. I chose to combine my remaining boozy ingredients in a mixing glass before adding the cheese syrup, ensuring that all elements emulsified smoothly, which they did. At the end, I added ice cubes to chill the warm mixture.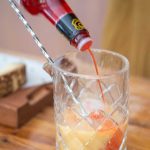 In my book, a cocktail without bitters is not worth the time. Sure, you can skip it, but why would you deprive yourself of the ultimate cocktail spice when you went through the trouble of making a cocktail in the first place? I topped the mixing glass with generous dashes of Peychaud's Bitters to tie it all together. I'd be remiss if I didn't garnish with a Luxardo cherry and a hunk of Ossau Iraty cheese. It's boozy, fragrant and oh-so-cheesy.
LET'S TALK PAIRINGS
Though determined to make cheesy cocktails a thing, one of our favorite pastimes at Caputo's is finding the ultimate pairings. I couldn't help it when a bundle of Caputo's Cheese Cave cheeses arrived at my door for this fun assignment. Let us not forget that in France, it is the cheese course that typically follows the dessert course; one of my personal favorite culinary customs and a delightful way to consume cheese: at the end of the meal. At this moment, I am usually hankering for an amaro or similar digestif. In fact, I often skip the dessert so that I can thoroughly enjoy the sweet and herbal sips. My "research" has led to some absolutely not-to-miss and you-must-try-this-at-home results. Please try one or all of these pairings next time you're entertaining. They are unique and stimulating and much like in France, will extend the gathering that you don't want to end.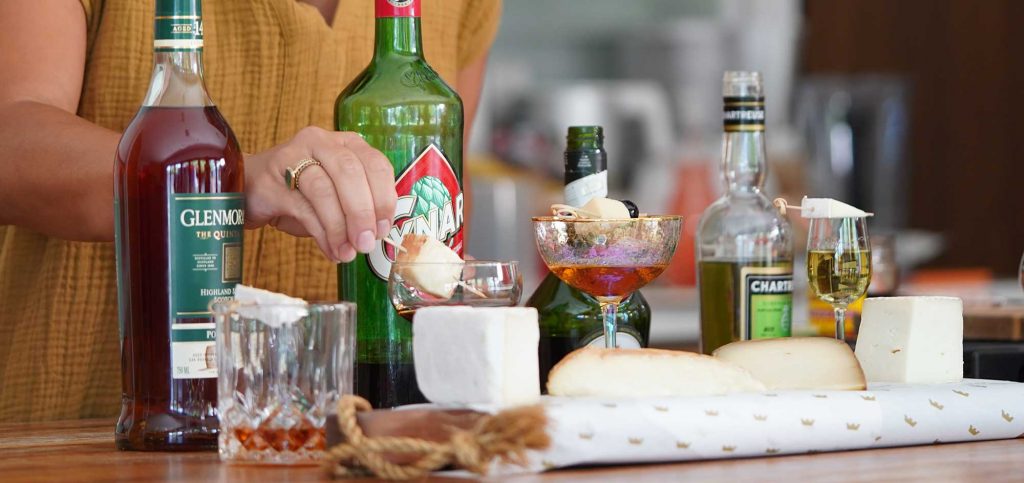 NOW, LET'S MAKE THAT COCKTAIL
Oh-Ssau-Boozy
Gently and slightly heat the Benedictine over low to medium flame. Add the prepared Ossau Iraty to the liqueur and mash with a fork. As cheese begins to soften reduce the heat to low and use a small whisk to combine. Keep on heat and whisk until smooth, caramel consistency. Remove from heat.

Congrats: you've made a cheese syrup! In a mixing glass, add Cognac, Absinthe and stir. Slowly add the cheese syrup and stir vigorously to combine**. Add 2 dashes of Peychaud's and continue to stir to combine. Add ice and stir for 20-30 seconds to chill the cocktail. Pour into glass.  Garnish with a cocktail pick of cheese and Luxardo cherries.
**Optional: strain into glass if preferred to avoid any cheese solids that may have formed.