Some ingredients serve one perfect purpose. Not bitters. As the excitement over expertly crafted cocktails continues to skyrocket, a variety of bitters are slowly making their way into my home and kitchen. If there's an open bottle of bitters lying around, you can bet I'll start playing with it in my food. I've had a few missteps in the beginning, but I can safely say I've got my sealegs now and am prepared to share my first bitters recipes.
Bitters are great in the kitchen. I crave complexity and depth in everything I make, so bitters are a natural addition to my pantry. Aroma and flavor—it's all in that little bottle that packs a powerful punch. Though it's not a new idea to introduce bitters to your cooking, it's still sparsely used in cookbooks and cooking magazines. The easiest place to start is with Addition. Here are Matt's words about Addition:
"Addition Cocktail Spice is just what the name implies: spice for cocktails. The company's products are similar to bitters in terms of aromatic potency, but have no bittering agents. While most are simply single-ingredient tinctures, try hunting down better ingredients and getting a better extraction than the spice geeks at Addition.

Some of these spices, such as the Pink Pepper and Turmeric, are useful primarily as aromatics, since they have big noses but subtle flavor. Others, such as the Black Pepper and Piri Piri, offer a lot more heat and flavor than they do aromatics. Still more spices, like Cardamom, Garlic, Rosemary, and Thai Chili, have a big impact on both nose and mouth."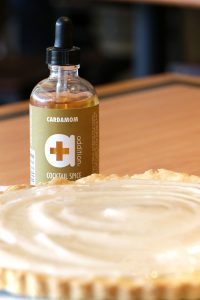 Cardamom, you say? That is relevant to my interests, especially with the cold weather blowing in recently. I yearn for the comfort of warm baking spices, and cardmom is one of my favorites. Since Addition's tinctures offer a singular, strong flavor, I wanted to add this to a tart with a perfect crust and a fun, flavored pastry cream. I settled on mixing chestnuts and cardamom, I'm calling it my Sayonara Summer Tart. We're welcoming in the cold seasons here, friends, and this is the tastiest way to do so. Sweet tart pastry dough is the base for a lightly sweetened combination of pastry cream and chestnut cream, with a generous helping of Addition Cardamom, for comfort's sake.
Chesnut and Cardamom Tart
Serves 8-12
Sweet tart dough:
8 tablespoons butter
1/3 cup sugar
¼ teaspoon salt
¼ teaspoon vanilla extract
1 egg yolk
1 1/4 cups all-purpose flour
Mix well, stirring and folding until there are no dry patches. Chill for at least 4 hours or overnight, until firm. Roll dough out and press into a 10-inch tart shell pan. Bake at 375 degrees for 15-20 minutes or until it begins to brown.
Chestnut pastry cream:
1 1/4 cups milk
3 large egg yolks
1/4 cup sugar
2 tablespoons all-purpose flour
2 tablespoons cornstarch
1/2 cup chestnut cream (substitute pureed chestnuts and sugar simple syrup if unavailable)
1 teaspoon Addition Cardamom Cocktail Spice
Mix the sugar and egg yolks together in a medium bowl. Add the flour and cornstarch to the the egg mixture, mixing until you get a smooth paste.
Bring the milk just to boiling. Remove from heat and add slowly to egg mixture, whisking constantly. Pour the egg mixture into a medium saucepan and cook over medium heat, whisking constantly. When it boils, whisk mixture constantly for another 30 – 60 seconds until it becomes thick. Remove from heat and immediately whisk in the chestnut cream and Addition tincture. Spread over cooled tart shell. Serve at room temperature.