Fall is a special time in the life cycle of plant life. Perennials gently nestle into hibernation while we kiss some of our favorite sweet annual plants goodbye. While it feels slightly sad, this is my favorite time for food as we move from light, crisp flavors to bigger, funky, fermenty ones.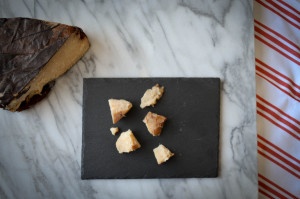 Testun al Foglie di Castagno embodies the best of this cooling season. Cow, sheep, and goat milks are blended into large wheels and aged over a year in the Cuneo region of Piedmont by Beppino Occelli. We carry a handful of selections from this lovely artisan, but this one in particular has stolen my heart. The wheels are wrapped in freshly plucked chestnut leaves and left to continue its year-long aging journey. The result is a sweet, complex paste tinged brown by the oxidized plant matter it's been snuggled into. Testun's paste is both creamy and crunchy from crystallized bits of tyrosine while the aroma smells just like the bottom of the leaf pile waiting for you in your back yard. Don't believe. Go on, dive in there and give it a whiff.
If you're really lucky, you'll be graced with small flecks of naturally ocurring blue mold growing just beneath the surface of the cheese. I live for these bits and will wait days for even a hint of blue. This added flavor tips the scales for flavor right up toward transcendence.
When you're done diving into your leaves, treat yourself to a this lovely cheese. Pair it with bold, tannic red wines, whiskey, or Epic's Smoked & Oaked beer, and a fireplace. This is the perfect time to enjoy this cheese and the season wanes into winter.