Much of the food world turns to French culinary culture with fervent admiration. As influencers and innovators of an array of culinary techniques and methods, most of us have taken advantage of even the smallest techniques and tips the French have so meticulously developed for the food world. That can mean anything from adding body to a gravy or soup with a roux, enjoying eggs benedict doused in a velvety hollandaise sauce, or simply having a tin of fish with some pickled veggies as an afternoon snack.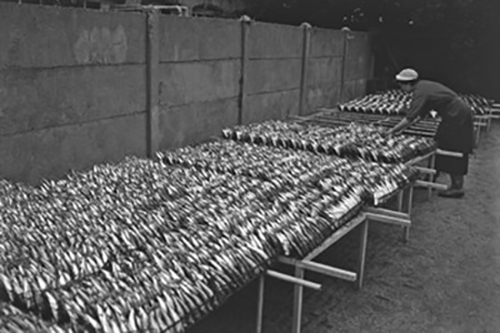 Thanks to Les Mouettes d'Arvor, a cannery on the Brittany coast of France, we can enjoy high quality, seasonably harvested, shelf stable seafood with a distinct French flair. The use of ingredients such as butter, Sel de Geurande, composed sauces, and Muscadet wine with fresh cheese are just some of the examples of traditional French ingredients that go into each hand packed tin. More importantly, Les Mouettes only uses fish from boats docking within five miles of the cannery. Talk about local.
For the last few months, a specific tin of mackerel has been all the talk around Caputo's and it wasn't until our tinned seafood class that I had the opportunity to have a taste. I was seated alongside a small group of strangers, when Les Mouettes d'Arvor was introduced. Each of us were served a piece of mackerel fillet topped with a generous dollop of a yellow-beige sauce. It met each of us with its acidic, yet sweet aroma and smooth texture that tickled my senses. The infamous mackerel fillets in Mustard and Crème Fraiche! I watched each of my tablemate's eyes brighten with overwhelming pleasure and desire for more. The full-flavored, meaty mackerel fillets are a delicious bonus in this tin, adding protein and chew, but I must be honest and say the sauce takes the spotlight with its generous application and bold flavor. The mustard and crème fraiche sauce is completely tantalizing, so make sure to have plenty of bread to soak it all up when the fish is gone.
Butter is another backbone ingredient in much of French cuisine. Serving as a rich base for many sauces and stews, it can also be preserved in a tin with succulent sardines. With that said, there is no shortage of satisfaction to be had in Les Mouettes' Sardines in Butter and Sel de Geurande. The salt is harvested in a nearby coastal region, and combined with high quality French butter, creating a rich golden pool for these unctuous sardines. Both additions serve to amplify the savory, rich qualities of the fish. When pan fried as suggested on the package (beware of the popping butter), they become crispy and flaky with subtle salinity. I hit the splattering, crispy sardines with a dash of smoked paprika for some depth, and enjoyed them with Torres ham chips, cornichons, and Mahon Reserva cheese as accompaniments. You could also serve them over some mashed potatoes, or toss them with some roasted veggies for a more composed meal. As I sipped on a vodka and sweet vermouth cocktail for an easy pairing, I dreamt of my next meal with the leftover butter and fish…scrambled eggs? Definitely.
Offering a selection of seafood rillettes is yet another way Les Mouettes d'Arvor maintains their distinct French-ness. Similar to confit, rillettes are made from meat that is slow-cooked in a fat, shredded, salted, and packed for preservation. Since the French discovered the practice of preservation, there's no question they know how to enhance them. I opened a small jar of the Rillettes of Mackerel with Mustard Sauce with no reservations and nibbled at the creamy fish with a fork for purely tasting purposes. Sharing remarkably similar ingredients to that of the Mackerel in Mustard and Crème Fraiche, the rillettes expressed different qualities in both the fish and the sauce. The even dispersion of sauce and fish throughout helps to cut some of the acidity from the mustard, and is less messy with a cohesive, creamy texture. Well suited to spread on toast or dip vegetables in, there's something slightly foreign, yet tantalizing about spreadable, cooked meat or fish. If you haven't ever had anything of this sort, try a jar of the tuna and cream cheese rillettes, which are milder, and share similarities to a creamy tuna salad. Coming in small reusable jars, any of the Les Mouettes d'Arvor seafood rillettes could be a new kind of treat you should want to try, with many of them including easy serving suggestions.
Since opening in 1959, Les Mouettes d'Arvor has seen success for obvious reasons. Having survived the collapse of the cannery industry in Concarneau, France at that time, they are the last remaining cannery in the region, holding true to quality, tradition, and innovation in the packing and selling of each seafood product offered. They serve to represent the standards that French culinary practices have historically practiced, and in the most approachable and delicious way. From simple sardines in extra virgin olive oil, to salmon rillettes with lemon and dill, there's an array of fun and unique options to choose from. Have a taste of the Brittany coast by trying Les Mouette's d'Arvor seafood and falling in amour.