Like all social media these days, food blogging is a flurry of gorgeous, drool-worthy photos and the most precise instructions. Things appear perfect from the onset and the string of photos prove that each blogger is the Mary Poppins of their own kitchen kingdoms. I am no such Mary Poppins. Rather, I'm practically imperfect in every way. My recipes often fail before I find success, and I can't help but relate to the rest of life.
For me, recipes are like relationships. Some take a long time to develop and stay with you forever. Some last a season and a forgotten by next spring. A few might be dreadful from the start, but we press on anyways, only to abandon it forever in a fit of rage and tears. But we all keep trying, testing, and tasting. The promise of a future success is enough to will us forward, knife in hand. This little fennel tatin took more work that I'd anticipated, but in the end, I made something I loved.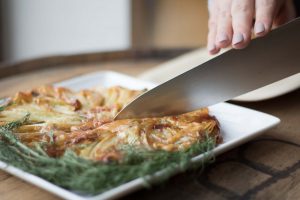 I've been wanting to create a fennel tarte tatin of my own for a few weeks by the time I'd set out on my first voyage, so I thought I'd have a pretty fool-proof first go of it. Wrong. So, so wrong. I'd burned the fennel to a miserable crisp in an effort to bake my pate brisee to golden perfection. I'd also thrown in a few generous spoonfuls of chevre on top of the fennel before capping my pan with pastry, and even that was dismal, at best. After a week of coming to terms with my sad first attempt and a lovely, quick discussion of cheese choices with our affineuse, Antonia, I was back on track and ready to try again. A handful of edits and substitutions later, I'd made something worth sharing. I'd gathered wisdom from the recipes of friends and experts (in this case, my friend- and expert- Vanessa, and other expert, Yotam Ottolenghi). Blanched fennel bulbs, buttered caramel, and puff pastry made it possible, and Antonia added the final touch with Nocetto di Capra.
It may have taken a village, but this is one I'm glad I saw through to the end. Share this with your real-life loved ones morning or night, they'll be glad you saw this tarte to the end, too.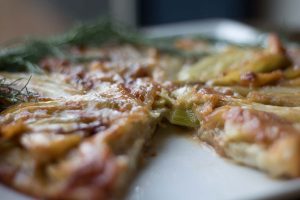 Fennel Tarte Tatin with Nocetto di Capra
Serves 4-6
4 medium fennel bulbs, base and stalks trimmed
Kosher salt
3 tablespoons butter
1/2 cup sugar
8 ounces Nocetto di Capra cheese*
1 sheet (at least 10 oz) puff pastry
Preheat the oven to 375 degrees and bring a large pan of water to a boil. Season the water with salt, add whole fennel bulbs, and return to a boil. Cook for five minutes, then drain. Cut each bulb in half lengthwise, and each half into 4 wedges, similar to apples.
Add butter to a 10-in cast iron pan and warm to medium high heat. Once butter is melted, sprinkle the sugar evenly over the base. Arrange fennel wedges in a fancy (or un-fancy) manner in the pan. Leave to bubble away until the juices thicken and begin to turn to a deep brown caramel.
While the fennel is caramelizing, cut Nocetto into slices, you should have about 8, and roll out puff pastry to about 1/4 inch thick. Cut out a circle of pastry just larger than the pan and set aside.
Once the fennel juices are caramelized, lay the slices of Nocetto over the wedges and lay the puff pastry over the cheese and fennel. Tucks the edges into the pan and pierce the pastry with a fork a few times. Bake for 30 minutes more or until the pastry is golden brown. Remove from the oven, and carefully invert the tart on to a clean plate. I find it easiest top the pan with the plate and hold them together with a kitchen towel while inverting. Serve warm. If reserving for another day, allow to cool on the counter for 20 minutes before refrigerating. To reheat, warm in a 300 degree oven for 5 minutes.
*If Nocetto is unavailable, substitute another bloomy rind cheese like brie, Harbison, or Casatica di Bufala