I've become a big fan of chocolate and was eager to take on the mantle of "Chocolate Czar" at Caputo's Market. I now have an excuse to spend time learning about, and eating, fantastic craft chocolate from around the world. Poor me, right? 
With such a big selection of chocolate, it's easy to feel overwhelmed when the time comes to decide on one just one bar. (Or two or four… you know what, just take my wallet.) I've been there too. I dipped my toes into the chocolate waters by trying a few suggestions from some of the other chocolate-lovers here at Caputo's, but soon I felt ready to jump into the deep end. It was time to discover my own favorite bars.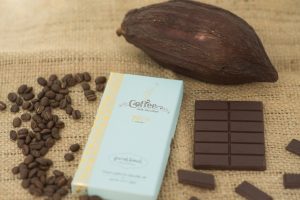 The Nicaragua bar from French Broad Chocolate was one of the first to catch my eye. French Broad bars come in unique light blue packaging, reminiscent of a hardback book with gold embossing (it even opens up like a book). Inside, you'll find an introduction to the chocolate makers,  information about the company, and a small insert detailing the origins of the bar and their tasting notes. French Broad also offers mini-bars and chocolate chips.
French Broad Chocolate was founded by partners Jael and Dan Rattigan after a journey that took them all the way to Costa Rica on a bus fueled by cooking oil. They learned all about chocolate during their time in Costa Rica and opened a bakery and chocolate shop. Eventually, they found their way to Asheville, North Carolina and founded French Broad Chocolate. In 2012, they opened French Broad Chocolate Factory & Tasting Room and shifted their focus to single-origin bean-to-bar chocolate and broader distribution.
From the first bite, I was hooked. The bars themselves are a rich, dark color and tempered into segmented bars that provide a satisfying snap. The chocolate melts smoothly on the tongue and has a creamy texture, even without added cacao butter (though some bars do contain cacao butter). The flavors of these bars are what really make me love them. Each origin is exemplary of its terroir and the flavors are expertly coaxed out of the beans. 
Some suggested bars to try:
French Broad Nicaragua 68%

– A slightly lower percent of cacao that still tastes as dark as its peers. With undertones of black liquorice and earth, this bar convinced me that I do in fact like liquorice.