With the nature of my job as a cheese monger, I have the opportunity to help customers with creating the ideal charcuterie board to share with their loved ones. Many may assume I am some sort of expert creator of all things cheese and meat; but really, I can be just as indecisive and lost as anyone else. There are too many good things to choose from and trying to cater to a variety of palates can be quite a challenge for anyone.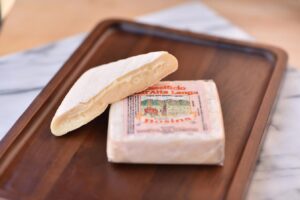 For this holiday season, I'm going to keep it simple. I'm choosing some no fuss snacking that is guaranteed to keep my family occupied while I wrestle with pie dough. Robiola Bosina is the perfect cheese for the job. This small format, soft ripened cheese is a creamier alternative to Brie, and is made with a mix of cow and sheep's milk, giving it a bit of delicate funk. It is made by Caseificio Dell'Alta Langa, based in a small village just south of Alba in Piedmont. This area of northern Italy is famous for its wines and truffles, laden with lush vineyards, quaint villages, and medieval castles.
Striving to keep tradition alive while still maintaining the highest quality standards, this cheese maker offers more than 20 handmade cheeses. Robiola Bosina is going to be the centerpiece for AT LEAST one holiday board this year.
Robiola's form is a small 4-inch square, making it the perfect size to be served cut diagonally (or left intact, your choice) with the halves offset on top of one another for some height and surrounded by your favorite accompaniments. Those may be dried fruits such as figs or apricots, some crostini and jam, a rich and herby cooked ham from your local deli (ahem, Caputo's), or maybe some bright and buttery olives. With its mild, palatable rind, I can't imagine why Robiola wouldn't be eaten in its entirety before anyone has a chance to ask questions. If you're feeling fancy, consider wrapping it in some puff pastry with brown sugar and fruit and bake it until the pastry is a golden brown and the cheese oozes when cut into.
Tis the season to entertain, but if you find yourself stressing over an elaborate (and often spendy) board, there's no shame in taking the simplistic route with one knockout cheese of your choice.