What a year 2015 was! We had loads of fun with our ever-growing chocolate selection, we introduced the world to our amped-up array of bitters and bar goods, and we pulled out some seriously fantastic cheese from our cheese caves. It was tasty year indeed, but I can't wait to show you what we've got in store for 2016. Let's welcome the new year with our first cravings of 2016: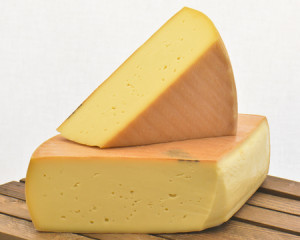 CHEESE: Raclette
Of course, one raclette couldn't suffice for us at Caputo's. You do need options, after all, when you decide to tackle a traditional, melted-alpine-cheese-themed meal. We've got both Swiss and French raclette to help you and your friends stay warm this January. Raclette is one of the most well-known alpine cheeses from Europe. Raw cow's milk wheels are washed daily while maturing into the ultimate creamy, complex, and pungent cheese. It's perfect for the table as is, but I've got a serious soft spot for it melted. Get thee to thy nearest Caputo's for raclette, artisan bread, cornichons, and more for your own traditional raclette meal. Don't worry, I'll have a full how-to for you in the coming weeks.
PANTRY: Olio Novello – Laudemio, Olio Verde, and Capezzana
Is it too early to call 2016 the year of the condiment oil? I proclaim it so, just you wait. There are certain foods in each type of cultural cuisines that are true stalwarts. Mustard in France, ketchup here in the states—you get the idea. Italy's is, of course, my favorite. Condiment oil is placed on the table and hopefully never leaves. This is not the stuff for sautéing and cooking. It is reserved only for drizzling over already-cooked or prepared foods right before serving or while eating. Condiment oils can be peppery, grassy, or bright—or even all three. The feeling after your first drizzle is transcendent. It makes everything more complex and even more delicious.
Now is a great time to stock up on oils because we are currently receiving the newest releases from the oil harvest of October/November 2015. This is also the ideal time to use them. I try to finish all my condiment oils before the new harvest arrives in late winter, so I always have the very best oils at their peak of deliciousness. These are three of our very best. Start by tasting them at the store and take home your favorite. You'll be amazed at how often you reach for it at dinner. Or breakfast. Or lunch.
CHOCOLATE: Domori Milk Chocolates
I know, I know. We love our dark chocolate here more than almost anything. But these, my friends, these are a game changer. Domori is my favorite boutique chocolatier from Italy. I love their chocolates for their untouchable texture, silkiness, and delicate attention to detail. It would only make sense that they would tackle milk chocolate with the same gusto for complexity and ingenuity. Choose from goat, sheep, donkey, or camel milk bars. They're all unique and all incredibly complex. I have never sat and pondered milk chocolate while eating it like I have with these bars. The difference in taste, texture, and finish are exciting for me and hopefully for the world of fine chocolate.
Are you a cheese geek? Here's Matt's two cents, "Cheese geeks will certainly appreciate tasting through these incredible offerings of ruminant and non-ruminant milks." It's Adri again: I Googled ruminant for you. Your non-ruminant milk that Matt speaks of is in the donkey bar. I'm sure you've seen other "odd milk" bars on the market from other brands. Trust me, these are by far the best. Domori obviously uses the highest quality and freshest milk possible just based on taste.
ruminant [roo-muh-nuh nt] , noun
1. any even-toed, hoofed mammal of the suborder Ruminantia, being comprised of cloven-hoofed, cud-chewing quadrupeds.
Stay tuned for tasting notes, opinions, and more about these exciting new bars.
TREAT: Scaldaferro Torrone
It pains me to even post this. Not because of anything negative, but because it will be hard to let all you lovely people buy this and not hoard it all for myself. Matt calls this a "here today, gone tomorrow" kind of item that is only briefly on our shelves for the holidays and slightly thereafter. And I hate that. I wish I could eat this torrone everyday for the rest of eternity. It's that good. Torrone is a traditional confection made from egg whites, honey, and nuts. So simple, but so divine. There is really nothing better than the Scaldaferro Torrone selections, and I hate to admit it, but I've grumpily typing this since the first mention of Scaldaferro. Seriously, get this before it's gone. You'll miss out on a tiny piece of cloudy, sweet perfection.