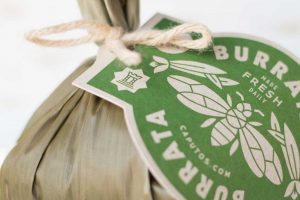 We've been making our own burrata for a few years now. Lots of things have changed around here, but one question has the same response since the very first time we were asked:
Question: 'What should I make with burrata?'
Answer: 'Nothing.'
Insert puzzled looks here
Reattempted Answer: 'We usually just eat it with a spoon.'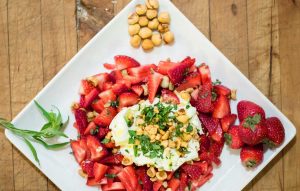 There's something about burrata that begs for sweet simplicity. Really, all you need is a small bowl, a spoon, and Netflix. We do, however, sometimes get the itch to create a more grand presentation or burrata-based treat. There are, of course, many time-consuming, delicious, and decadent things to be made with this cheese, but our very favorite preparations require less than ten minutes' work and fewer than five other ingredients. That creamy, delicate flavor deserves to shine. The best way to do that is to find two or three other components that will graciously support burrata as the darling of the plate, the shining star on your palate.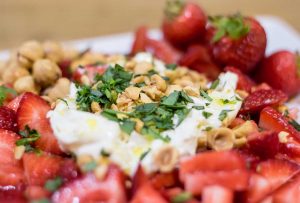 When I'm putting together such a plate, I look for ingredients that will add texture, aroma, and brightness in color and flavor. On the simplest of days, this can be achieved with a great baguette, a super green, fruity condiment olive oil (e.g. Viola oils), and a finishing salt (e.g. fleur de sel/fior di sale). But, for a plate to impress your pals, try something like this strawberry, burrata, and hazelnut situation.
The Breakdown: This is more of a suggestion than an actual recipe. Swap various fruits, nuts, and base layers. Maybe you'll want this on a bed of greens, or built atop crostini. Take the reins, and build to your heart's desire.
The centerpiece is–you guessed it–burrata. Freshly chopped strawberries will add nice acidity and lovely color. A sprinkling of lightly chopped tarragon adds aroma and depth to each bite. Barroero Toasted & Salted Hazelnuts are the texture and salty component needed to round out the finished plate.
Need a little something more? Aged balsamic can amp up sweetness OR condiment olive oil can contribute to that unctuous, burrata texture and also introduce some well appreciated bitterness to counterbalance the sweetness from the strawberries. I wouldn't add both oil and balsamic together, but you are the boss of your own plate. Go forth, my dear eaters! Enjoy the beauty of simplicity, revel in your ability not to complicate life and plate, and reap the benefits of freshly made burrata.
Enjoy, friends. Eat well and eat happily.