Five years ago, I searched around for fellow chocolate geeks to share in a wacky experiment: develop a local club dedicated exclusively to testing, tasting, and talking about the finest chocolates.
I love chocolate, and I love to share it with my friends, but I wanted a "society" of friends who were as nerdy and passionate as me. So I created a safe harbor for them to join me in chocolate geekery. I called the group the Utah Chocolate Society specifically to evoke visions of robes and torches and secret chants.
Early April 2010, the first 12 people joined Nick Frappier and I to blind taste chocolate. We inadvertently established our modus operandi: a strong emphasis on blind tasting. We began having monthly meetings with a focus on bars made from beans originating in Madagascar or Venezuelan or chocolate made by brands like Amedei or Amano. As it turned out, the similarities and differences told stories about the characteristics of bean origins and stylistic choices of the producers.
With our first anniversary, we started an incredible tradition of anniversary gelato, courtesy of Amber Billingsley. The first batch involved $70 worth of Amedei 9 transformed into a mere half-gallon of chocolate stracciatella gelato. It literally made some of us misty-eyed. Leading up to the second anniversary, we started our annual Chocolate Society March Madness Tournament—unless that violates a trademark, in which case let it be known that it is our Spring Silliness Tournament. The first tournament featured 32 chocolate bars paired off in a single-elimination, randomly-paired tournament. But each year since has included 64 chocolate bars. We have the only blind, honest chocolate competition out there, and it is some fun!
We have had lectures from a chocolate producer (Rob from Fresco) about the production process, Eric Durtschi from Crio Bru about bean agronomy, and Francis Fecteau from Libation about the tactics of smelling and tasting. We have visited a variety of chocolate producers, had meetings in various local venues to see and celebrate Salt Lake City, and we have eaten a LOT of great chocolate.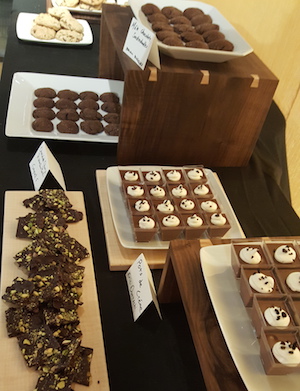 It didn't take long for the real value of the Utah Chocolate Society to shine through, and it wasn't in the chocolate. It turns out the society—the people who make it up—are easily the best part. We represent different ages, backgrounds, faiths, and senses of humor. We share in a common passion of chocolate, and we do it loudly and with much merriment.
April 30th saw us celebrating five years of getting together to get nerdy about chocolate, and I may have set too high a bar for myself if ever I try to outdo it. Adam Kriesel from Chaia Cucina Catering provided an awesome meal, after which we had, in typical ChocSoc fashion, WAY too many desserts and goodies provided by the people that make the whole institution so great.
My original goal was to find like-minded people to share in the chocolate discovery journey. Mission accomplished.
The next goal is to help Salt Lake City—and all of Utah—realize that Utah is a weird outlier in the chocolate world. The world of fine chocolate is completely overrepresented here in terms of both the number of world-class producers and the number of people who can't get enough of the stuff. And I want Utah to further embrace that happy fact and shout about it annoyingly loudly to friends and family who ask, "What's good in Utah?"
You can also learn about fine chocolates in one of the many classes taught at Caputo's Market.