I am proud to announce I am officially embracing the art of Danish hygge. The psychological embrace of cozying up and enjoying the dark, cold weather with fuzzy socks, a fire, and some soothing music can be accompanied by only one more necessity: hot buttered rum.
I'd heard of this for years, but had never ventured toward making it myself. I was in the throes of the whiskey craze of my early twenties and couldn't be bothered by rum. Now, in my wise late twenties, I've learned a thing or two about a thing or two. Namely, my appreciation for hot beverages and rum. The union was simply unavoidable. Dark, aged rum is whisked with a spiced compound butter and hot water for an easy treat perfect for sharing… or not. I've been making larger batches and storing it in the fridge for up to a few weeks for visits from friends or to warm me up after particularly cold adventures to the grocery store.
Now that Christmas has come and gone, I've be looking for the perfect way to enjoy the company of my family. Here's the plan, tempt them with football (that's the kind of family we are) and then keep them from leaving with this tasty, cozy drink. Turns out, it pairs perfectly with Christmas leftovers and Chinese takeout alike.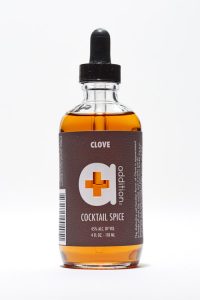 Hot Buttered Rum
Serves 16
1 pound butter, softened
1 cup brown sugar
1/2 teaspoon ground clove
1/2 teaspoon cinnamon
1/4 teaspoon ground nutmeg
1 teaspoon kosher salt
Aged rum
Fresh nutmeg for garnish
In a stand mixer or in a medium bowl, beat softened butter until light and fluffy. Mix in spices, salt, and tinctures. If storing, keep in an airtight container for up to one month.
For one hot buttered rum:
Add two heaping tablespoons of butter mixture to a mug with 1.5 ounces of aged rum. Whisk in hot water and grate fresh nutmeg over the mug. Serve and enjoy immediately.